Broadcast News
22/07/2016
Harmonic Continues To Deliver OTT Solutions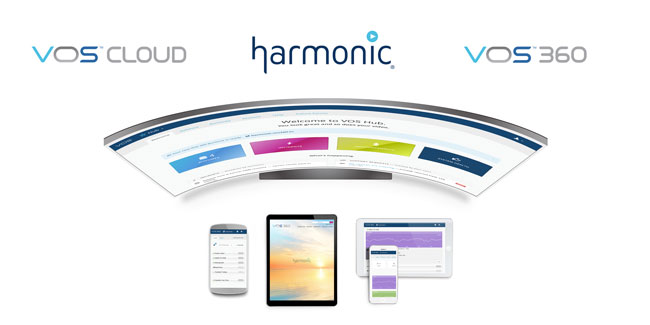 Harmonic is to demonstrate cloud-native, VR and UHD OTT distribution solutions at IBC 2016.
Harmonic Pure Innovation Pushes the Boundaries, Bringing Cloud-Native, VR and UHD OTT Distribution Solutions to IBC2016
Technology innovation is critical as pay-TV operators and broadcasters look to deliver the ultimate video experience on every screen. At IBC2016, Harmonic will demonstrate its unwavering focus on innovation, accelerated by the company's recent acquisition of Thomson Video Networks.
Beyond powering today's traditional broadcast and OTT workflows, Harmonic is the only technology provider that offers a clear and efficient path to the future, enabling operators to support the latest innovations in IP, cloud-native, virtual reality, virtualized playout and DVB-T2 technologies. Stop by the stand to see how we are helping operators deliver a better user experience and increase monetization through optimized content regionalization technologies.
Highlights of the company's display include:
Accelerated OTT Development
Harmonic will showcase its new VOS cloud-native solutions: VOS Cloud and VOS 360. Visitors will have an opportunity to view the monetization opportunities enabled by cloud-based media processing solutions and services, such as cloud DVR and packaging-on-the-fly.
The company will also demonstrate a complete UHD HDR workflow and new video-quality assessment technology for OTT workflows that maximizes bandwidth efficiency while assuring that video quality targets are met. It is powered by the Harmonic PURE Compression Engine.
Boosting Content Regionalization and Monetization
Ad insertion, playout and splicing at the edge of the network can help pay-TV operators regionalize and monetize content as part of their primary distribution workflow. Harmonic's solution can be delivered via satellite or internet, and includes the ProView integrated receiver-decoder (IRD) and FUZE-1 playout system.
Virtualizing Playout and Delivery
At IBC 2016, Harmonic will showcase an expanded Spectrum media server family with new virtualized playout and delivery capabilities, including virtualized channel-in-a-box and ABR encoding and packaging.
Immersive 360-Degree Virtual Reality viewing experience
With UHD encoding powered by the Harmonic PURE Compression Engine, Harmonic and select ecosystem partners will showcase an immersive 360-degree virtual reality (VR) viewing experience. Utilizing UHD delivery ensures a no-compromise VR solution for broadcast-quality HD imagery.
In addition to the VR demonstration, Thierry Fautier, vice president of Video Strategy at Harmonic, will present a paper on 'VR Video Ecosystem for Live Distribution' as part of the IBC conference session on Exploring New Ideas in VR & 360° Immersive Media. This takes place on Saturday 10 September at 10.45am.
Image: Harmonic VOS Cloud Media Processing Platform and Harmonic VOS 360 Professional Cloud Media Processing Service.
www.harmonicinc.com
(JP/MH)
Top Related Stories
Click here for the latest broadcast news stories.