Broadcast News
20/01/2016
Harmonic, AsiaSat Launch UHD Channel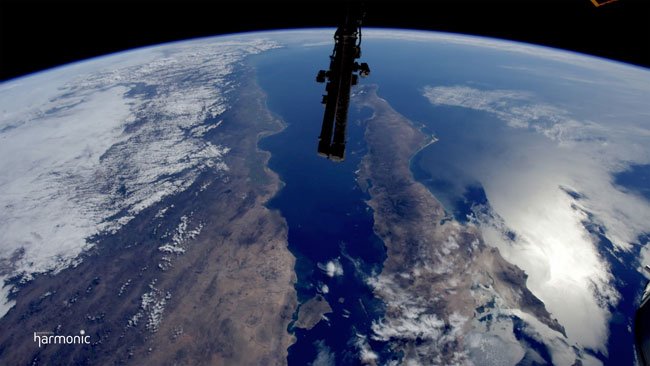 Harmonic and AsiaSat have come together to launch a new Ultra HD (UHD) channel, '4K-SAT2/HVN'. It is AsiaSat's second free-to-air UHD channel on AsiaSat 4.
It will launch on 1 March, 2016, and will be 4K video content from Harmonic's video library, as well as content from the new NASA TV UHD channel, in 2160p60 with HEVC Main 10 profile, using an end-to-end UHD video processing system from Harmonic. With the channel, consumers in Asia can explore the beauty of the world and space in UHD. NASA TV UHD, the first UHD channel in North America, was launched by NASA and Harmonic in North America late last year.
"With the cost of UHD TV sets dropping dramatically over the past year, demand for UHD content in Asia is expected to grow exponentially in the next couple of years," said Sabrina Cubbon, vice president, marketing & global accounts at AsiaSat. "Our partnership with Harmonic for this new channel '4K-SAT2/HVN,' following the successful launch of our first UHD channel last year, enables the delivery of a choice of rich and compelling UHD content on AsiaSat 4, allowing us to demonstrate the superior quality via satellite of a linear Ultra HD channel in 2160p60 resolution."
The UHD channels on AsiaSat 4's UHD platform are available free-to-air across the satellite, from New Zealand to Pakistan and part of the Middle East, and encompasses more than 50 countries and regions. Asian TV operators and home viewers with an AsiaSat 4 C-band antenna and a HEVC set-top box will be able to receive the free-to-air UHD channels in native UHD quality.
The new 4K-SAT2/HVN UHD channel utilises Harmonic's MediaGrid shared storage system, a scalable, Ethernet-based shared storage system optimised for digital media workflows; Polaris playout management suite; Spectrum X advanced media server system, and the Electra X3 UHD media processor, to enable full UHD channel production and transmission from the AsiaSat's Tai Po Earth Station in Hong Kong.
"Harmonic is the only video infrastructure provider to offer a complete UHD workflow solution for delivery of live and linear UHD broadcasts. This expertise, combined with our UHD channel-as-a-service offering, technology leadership and active involvement in standards bodies and other industry groups, is creating the momentum needed for global UHD service deployment," explained Peter Alexander, Chief Marketing Officer at Harmonic. "By providing AsiaSat with a full-scale workflow for delivering 2160p60 UHD video content, and also providing a complete slate of compelling content that showcases the medium of UHD, Harmonic is enabling UHD services to be rolled out quickly and affordably to consumers across the region, with amazing video quality."
Image: Harmonic NASA TV UHD Earth Shot.
www.asiasat.com
www.harmonicinc.com
(JP/LM)
Top Related Stories
Click here for the latest broadcast news stories.