Broadcast News
18/07/2016
Eyeheight Keyers Chosen For Wimbledon Coverage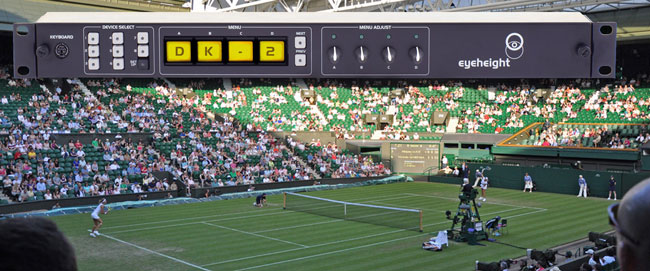 Three DK-2 linear downstream keyers from Eyeheight were chosen as part of the OB infrastructure at the recent 2016 Wimbledon Lawn Tennis Championships.
Compatible with all commonly used 625/525-line standard-definition, 720p intermediate-definition and 1080i high definition formats, the DK-2 incorporates background, fill and key inputs, wipe, matte and garbage-matte generation, independent main and preview keyers plus EDH reinsertion for the main output. It is fully transparent to SDI-embedded audio and other ancillary data. Mechanical relay bypass is available as an option. Features include 10-bit linear keying, manual or automatic transitions, a user-selectable choice of additive, multiplicative and self-key modes, and AES digital audio voiceover.
The DK-2 comes with inputs for slave fill sync, slave key sync and master input line sync, as well as independent programme and preview outputs. An RJ45 port allows connection of three GPI channels and tally, plus RS232-based on-board protocol control. It can be operated via Ethernet from anywhere in the world.
Martin Moore, Sales Director, Eyeheight, said: "The DK-2 performed successfully at the 2013 to 2015 Wimbledon Lawn Tennis Championships. It was used this year to add contestant identifier overlays which were faded in and out over the live action with a Eyeheight VP-10 video T-bar module. These were deployed to ensure consistent quality from multiple feeds arriving in the OB control vehicle."
www.eyeheight.com
(JP/LM)
Top Related Stories
Click here for the latest broadcast news stories.