Broadcast News
29/06/2016
Miller Camera Support To Display New arrowˣ System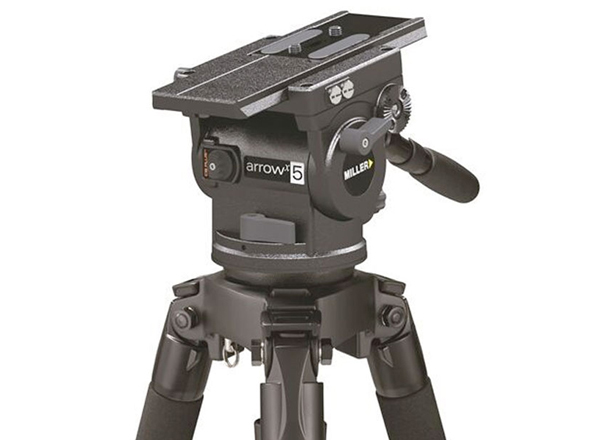 Miller Camera Support is to display the new arrowˣ 5 Sprinter II 2-Stage CF System at Telemundos Gran Cine Video Expo.
CB PLUS is a sequential counterbalance design, moving traditional counterbalancing forward, resulting in repeatable, accurate and rapid setup. It features eight large counterbalance steps, allowing the user to get to their needed position quickly. The CB Plus switch adds a half step, enabling counterbalance refinement. This feature makes the arrowˣ Series ideal for ENG, EFP, Studio and field OB.
In addition to CB PLUS, the arrowˣ 5 includes the ability to remove the clamp stud to easily mount the head on flat base surfaces such as sliders. Where extra rigidity is required, a Mitchel Base adaptor can be fitted. All arrowˣ models come with 120mm sliding plate travel to help re-balance changing camera payloads. Precision ball bearing supported pan-tilt movements help deliver smooth starts and soft stop fluid actions.
Exact floating pan-tilt calliper locks ensure bounce free on-off locking. It also has a widepay load range from 2kg to 21kg, 16 positions of counterbalance and 7+0 pan and tilt drag positions. These all make the arrowˣ 5 ideal for larger ENG and EFP applications including documentaries, drama and television commercials.
The Sprinter II 2-Stage Carbon Tripod features side-action leg locks that let users independently adjust both stages of the tripod with one hand, allowing for high speed adjustments on the go. Other specifications include a minimum height of 440mm and a maximum height of 1540mm. Weighing 3.2kg,with a payload capacity of 45kg, the tripod can handle larger payloads without sacrificing manoeuvrability.
"The arrowˣ 5 Sprinter II 2-Stage CF System allows us to showcase Miller's new CB PLUS, a revolutionary new counterbalance system," said Gus Harilaou, regional manager for the Americas, Miller Camera Support, LLC. "Made for quick and easy adjustments both in the field and in the studio, CB PLUS helps users achieve the right feel we strive to always provide."
www.millertripods.com
(JP/MH)
Top Related Stories
Click here for the latest broadcast news stories.