Broadcast News
23/06/2016
Broadcaster Uses Egripment's Xtreme T10 For Euro 2016 Coverage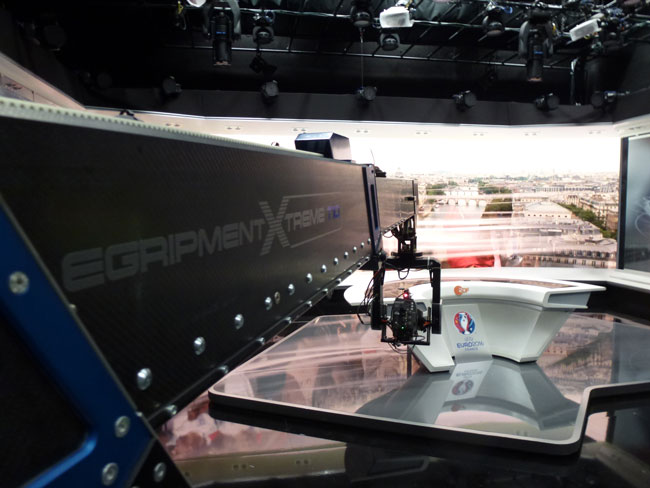 The Xtreme T10 encoded telescopic crane from Egripment is being used by German broadcaster ARD & ZDF as part of its daily live broadcast from the UEFA Euro 2016.
The crane is being used within the broadcaster's presentation of Augmented Reality aspect of the broadcast.
The Xtreme T10 delivers real-time tracking data in combination with the Vizrt Render Engines, provided and operated by company, deltatre.
The tracking solutions of the crane ensures that all obtained data, as well as the lens information and deformation data, is delivered in a simple data stream for deltatre's render engines running the latest Vizrt Virtual Studio with Tracking Hub. The tracking protocol simplifies the redundancy of the datastream in the unlikely event of a render engines failure, plus seamless switchover to the backup system. All data is delivered as fully processed protocol to available engines within the network.
The Egripment Xtreme T10 uses mechanical tracking, operating independently from any visual targeting. As a result, operation of the crane is identical to normal crane operation, used in a non-Augmented Reality application.
The Xtreme T10 features an additional encoder package with tracking interface as well as the 306 Encoded Remote Head. It has a maximum arm reach of 7.50m (24.6ft), in relation to the compact overall operational length of 9.70m (31.7ft).
www.egripment.com
(JP/MH)
More Cameraman, Cameramen & Crew Stories