Broadcast News
08/06/2016
Media Production Show Takes The Spotlight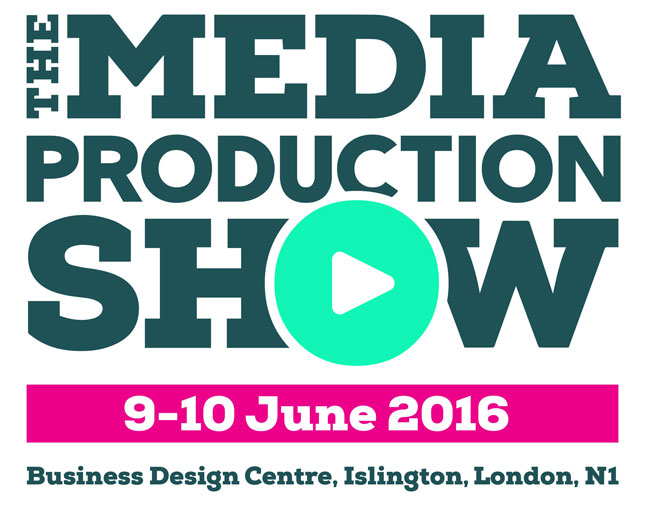 The Media Production Show takes over the Business Design Centre, Islington, London, on 09 and 10 June. Editor Jacqueline Purse looks ahead to the exhibition to see what awaits visitors.
Aimed at those working in the creative industries, the two-day event welcomes hundreds of exhibitors – from distributors, manufacturers, film studios, colourists and VFX, to equipment hire firms, set & construction, catering and lighting. There will also be more than 60 free-to-attend seminars where leading industry figures will share their knowledge and present their products and services across pre-production, production, post-production and content distribution.
The show takes place just six weeks after NAB in Las Vegas and is one of the first opportunities in the UK to try out the latest kit and software on offer. Below are just a few highlights visitors can expect from this year's show...
"Camera and lighting is instrumental to the production process, and we have some of the best manufacturers and suppliers in the industry exhibiting at the Media Production Show," commented Charlotte Wheeler, Event Director, Media Business Insight (MBI). "Many of the products and innovations they will be bringing to the show at this crucial time in the production calendar will be seen for the first time in the UK."
Blackmagic Design (Stand 304)
will demonstrate the latest in its Ultra HD 4K workflows, with 12G-SDI equipped products including its range of digital film cameras, Teranex standards converters, latest version of DaVinci Resolve for editing, colour grading and finishing and its range of ATEM production switchers. Meanwhile,
Panasonic (Stand 312)
will showcase the latest additions to its range of cameras including the recently unveiled Varicam LT and the AG-DVX200 camcorder. The company will also unveil the latest 4K and HD remote camera solutions commonly used in fixed-rig installations. Panasonic's AK-UC3000 4K live studio camera, which was used recently to broadcast Barcelona v Real Madrid in 4K, will be at the show.
RED Digital Cinema
will exhibit its DSMC2 line of cameras, including the RED RAVEN 4.5K, SCARLET-W 5K and WEAPON 6K. The cameras will be on display with partner firms
Global Distribution (Stand 342)
,
Atomos (342)
and
G-Technology (342)
,
Zeiss (350)
and
Codex (Stand 146)
. A representative from RED will be at each booth.
Zeiss
will exhibit a variety of photography and cinematography lenses. Those in attendance will also be able to see first-hand the recently-launched Batis 2.8/18 addition to the Batis family of lenses. In addition, the newly-launched ZEISS Lens Gear rings will be on display, opening up the high-quality range of ZEISS camera lenses to filmmakers. Alongside ranges of Otus, Milvus, Loxia and Touit lenses, a selection of our cinematography lenses – including the Compact Prime CP.2 and Compact Zoom CZ.2 families – will be showcased.
Rotolight (Stand 142)
will launch four new features for its Anova Pro LED lighting system at the Media Production Show. Meanwhile,
Blind Spot Gear (Stand 434)
will also unveil its new Tile Light. This will be the first showing of the light in the UK and has been described as a "TLCI 92 trans-technological fusion product". It is daylight balanced and has a soft spread for enhanced skin tones.
Canon (Stand 344)
is appearing alongside hire company
Shooting Partners
and will demonstrate how its equipment has been used on a number of leading productions, including The Voice and Hunted. Visitors can get up close with Canon's new ME200S-SH camera. The multi-purpose camera, which was unveiled at NAB 2016, can be used across a range of broadcast, cinematic, documentary and wildlife productions. It features Canon's Dual Pixel CMOS Autofocus system and a Super 35mm CMOS sensor with 8.29 megapixels, replicating the image quality found in the Cinema EOS range. The ability to record full HD images up to 50p/59.94p also extends the camera's use for sports and wildlife, as well as surveillance. The ME200S-SH features Wide DR mode, enabling footage to be used directly from the camera with little or no grading, further speeding up the post production workflow. The camera is equipped with the Canon EF with Cinema Lock mount, providing use with a large range of compatible Canon EF, EF-S and cine-servo lenses. Canon's CN-E18-80mm T4.4 L IS KAS S compact cine servo lens will also be on display. Also launched at NAB, this has been designed for professional and advanced amateur videographers using large-format, single-sensor cameras. The lens includes a servo engine – powered via EF mount connectors – and supports hand-held shooting.
MTF Services (Stand 124a)
will showcase their range of lens adaptors. The award-winning adaptors can take Nikon, Canon PL and B4 lenses to be used on cameras such as Blackmagic, Canon, JVC, Panasonic and Sony. Also on display will be new brands represented by MTF Services in the UK, including Blueshape Professional V lock batteries, chargers and power stations; Brightcast Flexible LED lights in both Daylight and Bi colour; and Veydra mini prime lenses, for M43, E and FZ mount cameras.
Elsewhere at the Media Production Show, leading Avid Elite Reseller
Altered Images (Stand 422)
will provide one of the first opportunities to see Avid NEXIS and NEXIS PRO, the next generation of shared storage from Avid. The company will also highlight a number of Avid Certified Connectivity Partners, including Quadrus Ingest Machine, the leading multi-channel ingest solution for Avid workflows. Nick Frith, Marketing and Operations Director, Altered Images, said: "The show's timing makes it a great place to discuss and see many of the technologies and products that were announced at NAB, and we are looking forward to being there."
G-Technology (Stand 342)
delivers storage solutions for professional content creation environments. On display will be the G-SPEED Shuttle XL which meets the demands of higher quality content with HDR and 4K plus resolution by offering high-speed dual ingest from both the Atomos MasterCaddy and the RED RAVEN 4.5K camera via the RED MINI-MAG. The combined HDR ecosystem simplifies on-set DIT data wrangling and provides effective storage for 4K, plus HDR editorial and finishing.
Flying TV
, located at
Stand 119
, will display the new GSS C516 cinema camera system. It has been built to the company's specifications by Gyro Stabilised Systems in Grass Valley, California. The system is available with the RED Weapon camera and the Canon C300 MKII camera, plus Angenieux Optimo Style 25-250 and Canon Cine 50-1000 lenses. Flying TV's new UAV – the Freefly Alta 8 – will also be on show.
Footprint (Stand 328)
creates and builds sets and scenery for commercial, exhibition, theatrical, and retail experiences. Working out of three workshops in Peckham, Footprint provides clients with a range of services, from sketches to fully realised visuals, and complete CAD drawings to 3D printed models, 3D mapping and rapid content creation. The company will also use the London event to explain about one of its latest projects, 'blackbox' – a workspace that enables artists, designers, engineers and creative industries to create immersive environments and interactive spaces. In addition, Footprint is working alongside London South Bank University to explore augmented and hybrid reality.
Rome-based dubbing and audio post facility
Sound Art 23 (Stand 150)
will reveal details of its new mixing studios. The new set-up features AMS-Neve consoles, BSS 806 processing and Avid S6 consoles. Meanwhile, fellow Italian facility
Cinecittà Studios (Stand 122)
, which has three sites in and around Rome, in addition to a new studio in Morocco providing a total of 30 stages and 300 acres of diversified back lots, will be on hand to discuss its offering. It will highlight the country's new tax incentives, regional film funds and VAT exemptions.
AED Studios
, the Antwerp, Belgium-based media complex that offers studio space and hire equipment will showcase its range of services for productions at
Stand 212
. Another facility that will be in attendance at the Media Production Show is
Bentwaters Parks (Stand 306)
, a 2,000-acre former airfield in Suffolk which can be used for set builds, car chases and shoots on a large scale. The business is planning to build a sound stage with more production offices and workshop space.
Bruizer
, a creative film and video production company based at Bentwaters Parks, will also exhibit.
The Bottle Yard Studios
is part of a larger West of England group taking a stand at the show
(Stand 408 Shoot: West of England)
, and speaking ahead of the event, Fiona Francombe, Site Director, at the studios said: "As one of the Shoot West of England contingent at the Media Production Show, The Bottle Yard Studios aims to demonstrate the one-stop shop that our area can deliver for productions of all scales. The wealth of facilities and crew in and around Bristol and Bath have continually worked closely together and we're very proud of the reputation we have built because of it.
"This year we are delighted to be hosting more productions than ever when we look forward to welcoming both new and repeat business, and recent titles to be filmed at The Bottle Yard Studios include: upcoming series two of BBC One drama Poldark; BBC One drama Sherlock: The Abominable Bride; series two of Disney/ABC Studios' US musical comedy Galavant; CBeebies series Andy's Prehistoric Adventures; Golden Years; upcoming new BBC One drama The Living and the Dead; and Emmy-nominated & BAFTA-winning BBC Two drama Wolf Hall."
A stand sponsor, the
euNetworks
team will discuss Media Connect, Cloud Connectivity and their plans for 2016 at the Media Production Show. euNetworks provides connectivity solutions to the media industry; most recently, they expanded its Media Connect solution into Manchester's MediaCityUK, continuing the company's investment in connections to key media areas around the UK and Europe.
Located in the south east of England, Kent is known for its impressive coastlines, charming countryside and castles. So, it's probably not surprising to discover that the home county has been chosen as a filming location on a number of productions in recent times. For example, Dover Castle was used as a filming location in 2015 movie Into The Woods, as well as Avengers: Age of Ultron (2015). Recent ITV thriller Marcella used the Port of Dover as a filming location, American television drama series The Royals filmed at Allington Castle, while series 5 of Call The Midwife took in the Chatham Historic Dockyard. Established in 2006 as an economic development initiative by Kent County Council, the Kent Film Office is a free service to productions, generating inward investment into the local economy.
Kent Film Office (Stand 100a)
will have a presence at the show, and speaking to BFV, Gabrielle Lindemann and Hannah Lucey, Kent Film Office, said: "The Kent Film Office is excited to be exhibiting at The Media Production Show and the opportunity to showcase our well established Film Commissioning Service. We look forward to re-connecting with existing clients as well as meeting new contacts to discuss filming in Kent and the varied and interesting locations the county can offer. There will also be a Kentish hamper prize draw, including sparkling wine and traditional seaside rock treats at our stand!"
GOLDSTEIN Music (Stand 115)
recently produced the score for creative agency Brave as part of its newest global campaign with Panasonic. The task was to illustrate through film how Panasonic works with Hollywood professionals to fine tune its televisions. The 'True to the Filmmaker's Vision' campaign brings to life Panasonic's cinematic credentials while highlighting the new HDR 4K technology. Music production company GOLDSTEIN produced a piano and strings score to depict the story of lost love for the campaign. Ahead of the Media Production Show, they said: "The show is a great opportunity to connect with like-minded professionals and to share our latest and greatest work in music production and sound design. We look forward to meeting everyone there!"
Groovy Gecko (Stand 232)
will demonstrate its integration with Facebook's live video API at this year's show. The new live video API was launched in April at Facebook's F8 Developer Conference and will offer content providers the ability to stream videos live into a Facebook player. Groovy Gecko has partnered with Facebook to develop an integration with the API, enabling content providers to setup their live videos for publishing into Facebook. Groovy Gecko has already delivered a number of live videos using the integration since its launch, including a series of live webcasts for Jamie Oliver's Food Revolution and the unveiling of a brand new series by Walking Dead creator, Outcast. In addition, the company will use the Media Production Show to showcase its live 360 workflow, enabling the next generation of 360 video streams. The 360 workflow is compatible across multiple devices, including VR headsets, and embeddable in social media.
"There is a great deal of innovation happening right now for online video," said Jake Ward. "For media owners, there is a much bigger opportunity to engage with consumers in an interesting and compelling way. We are proud to be continuing to enable that engagement."
Digital media systems integrator and software developer
NMR
will demonstrate the recently-launched Cantemo Portal 2.4,
Stand 220
. Cantemo Portal 2.4 includes a number of additional updates to make workflows more efficient and simple to use. This includes enhancements to the advanced search capability, enabling inclusion or exclusion of certain NLE projects or collections when searching. The collections page includes filtering by data and media type, plus drag and drop functionality for moving assets and collections into other collections. Cantemo Portal 2.4 also includes support for dynamic and static access rules within the Cantemo Rules Engine.
"It is great that NMR are showcasing Cantemo Portal 2.4. As a valued partner its support is invaluable," said Parham Azimi, CEO, Cantemo. "We are continually updating Cantemo Portal to make workflows more flexible and Portal 2.4 is a great example of that."
"We are proud to be able to offer visitors to our stand an early look at Cantemo Portal 2.4," added Neil Anderson, CEO, NMR. "Portal forms a key part of our offering and is crucial for helping many of our customers stay in control of their workflows."
NMR will also demonstrate Vidispine's latest solutions which provide a backbone for the creation, storage and processing of rich media content.
The
National Film and Television School (NFTS)
can be found at
Stand 447
over the two days. Described as the "world's best film school" by The Observer newspaper, the NFTS is a Creative Skillset Film Academy, recognised as providing the highest standard of vocational education, training and skills development. Previous graduates include Cinematographer Roger Deakins, Director David Yates and Animator Nick Park.
Speaking to BFV ahead of the show, Charlotte Wheeler said: "We knew there was a significant gap in the market for a UK based event which brought together suppliers from across the production and post production space. As we near the opening day of the Media Production Show we are excited by the enthusiasm of the industry with more than 60 speakers and 130 exhibitors prepping their presentations and displays for the show. Our aim to bring a production show back to Central London will soon become a reality and we are eager to welcome visitors to the Business Design Centre."
The Media Production Show takes place at the Business Design Centre, Islington, London on 09 – 10 June. A late-night opening will also be held on 09 June to allow visitors the chance to attend out of working hours.

• Thursday 09 June: 10.30am – 7pm
• Friday 10 June: 9.30am – 4pm
You can also keep up to date with the show via the official
Facebook
page and
Twitter
account, as well as using the hashtag '#MPS2016'.
www.mediaproductionshow.com
(JP/LM)
Top Related Stories
Click here for the latest broadcast news stories.