Broadcast News
06/04/2016
NAB Launch For GatesAir Flexiva LX Transmitter Series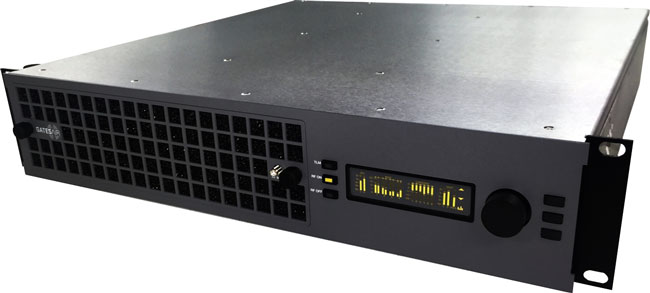 GatesAir has confirmed it is to launch its Flexiva LX transmitter series for analog FM broadcasting at NAB 2016, Booth N2512.
The Flexiva LX joins the Flexiva Compact Series at the lower power end of GatesAir's radio transmitter family, giving customers with a wider range of options for analog and digital radio delivery.
Flexiva LX transmitters offer FM broadcasters a budget-friendly option for upgrading to a more efficient transmitter design that boasts extensive capabilities, and replaces multiple separate boxes. The Flexiva LX offers a streamlined design focusing on FM analog broadcasts — a design attribute that lowers costs for the broadcaster — and retains the technologies that contribute to high audio quality, high performance and operational efficiency.
"GatesAir has offered digitally modulated FM exciters in its analog transmitters for more than 20 years, which is a top reason why so many FM broadcasters worldwide rely on our transmitters to maximize their coverage and to help them achieve the best possible sound quality for their listeners," said Rich Redmond, chief product officer, GatesAir. "The Flexiva LX proves that providing a major market sound for translators, low-power FMs and small market stations does not have to be expensive."
Quality and performance is enhanced through an integrated multiband digital audio processor with composite clipping and dynamic RDS. The latter eliminates the need for external systems to transmit dynamically-changing data related to song title, artist and other information. Flexiva LX is suited for translator applications with built-in FSK ID systems, and an optional slide-in, DSP-based rebroadcast receiver card. Built-in web-based control, accessible via IP connectivity, gives engineers an option for monitoring and management of transmitter parameters from any networked location. This is useful for broadcasters managing many transmitters across large transmitter networks, including single-frequency networks in U.S. markets; and international transmitter networks, where broadcasters manage multiple sites with many low-power and gap filler transmitters for national and regional coverage.
The Flexiva LX Series incorporates the latest high-efficiency technologies to reduce size, energy consumption and maintenance responsibilities. The compact 2RU footprint, which leverages high-density transistors and broadband amplification to reduce size and parts, fits into any transmitter building or enclosure, eliminating concerns for broadcasters with minimal RF plant real estate. Hot swappable power supplies simplify maintenance, enabling engineers to quickly service transmitters without affecting on-air performance.
The Flexiva LX Series is available in power levels from 10 watts to 1kW, and begins shipping this summer.
www.gatesair.com
(JP)
Top Related Stories
Click here for the latest broadcast news stories.