Broadcast News
09/03/2016
GatesAir Secures DTV Transition Project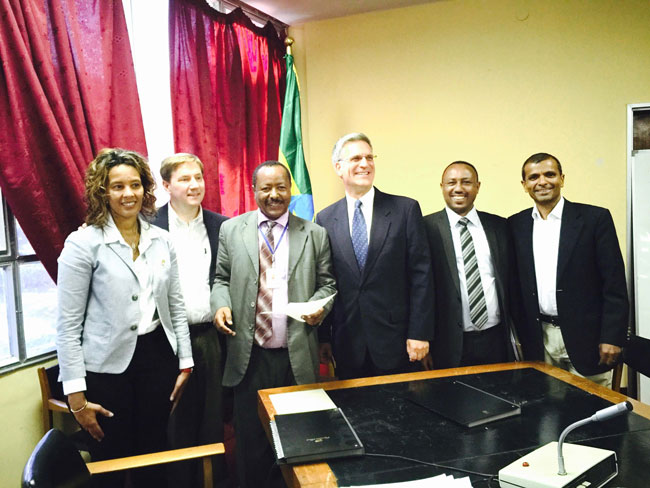 GatesAir has won a national digital TV transition project contract in Ethiopia. The contract will see the company provide turnkey equipment and services associated with the country's national digital TV (DTV) network.
GatesAir will design, supply, install, test and commission a DVB-T2 over-the-air network solution for 26 new transmission sites, as well as upgrade systems at 74 existing facilities. The firm will also provide a finance solution through J.P Morgan, with support from Export Development Canada (EDC).
The project will provide state-of-the-art DTV capabilities and services for the people of Ethiopia. The turnkey equipment package includes two GatesAir Maxiva liquid-cooled, high-efficiency UHF transmitters at each of new 26 new sites, along with DVB-T2 headend equipment, satellite uplinks, antennas and towers. The system will support delivery of 20 channels of TV programming and rich data services, including electronic program guides, on behalf of INSA, Information Network Security Agency.
In addition, GatesAir will train Ethiopian engineers to service the transmission system, providing education both in Ethiopia and at GatesAir's manufacturing centre in Quincy, Illinois.
Patricia Haslach, U.S. Ambassador to Ethiopia, said: "I am particularly pleased by the signing of the GatesAir contract with the Government of Ethiopia to digitize the EBC television system. It is a great example of how U.S. companies bring superb quality, low-cost technology, and turnkey equipment, services and training to the people of Ethiopia.
"GatesAir, formerly Harris Broadcast, has a 50-year history of working with and serving the people of Ethiopia. GatesAir was the lowest cost and most technically qualified bidder for this tender, and will now have an opportunity to deliver outstanding service. The selection of GatesAir will capitalize on American know-how in digitization and television technology, in order to achieve Deputy Prime Minister Debretsion's plan to fast-track digital television broadcasting in Ethiopia. Furthermore, the U.S. Trade and Development Agency (USTDA) will provide a training grant of $600,000 for capacity-building in Ethiopia, accentuating the positive impact of the Embassy's new Foreign Commercial Service."
Philip Baker, Canada's Ambassador to Ethiopia, added: "Canada is pleased to collaborate with the United States and Ethiopia on this important venture to digitize the EBC television system in Ethiopia. The participation of leading Canadian telecommunications infrastructure providers in collaboration with Export Development Canada (EDC) is a good example of the growing trade relations between Canada and Ethiopia, and we hope that strategic commercial partnerships like this one will continue to strengthen in the future."
"GatesAir is pleased to bring the latest technology and our nearly 100 years of global expertise to Ethiopia to improve and expand national digital TV services," said Phil Argyris, CEO, GatesAir. "We are invested in helping the Government of Ethiopia provide the highest quality content, services and media possible for the Ethiopian people that depend on the EBC for news, information and entertainment."
Image: (L-R): Tanya Cole, Senior Commercial Officer, U.S. Embassy; Paul Anderson, Regional Sales Manager, GatesAir; Mr. Y Daba, Director of the Public Procurement, Property Disposal Service (PPPDS), the government agency responsible for public tenders; Ambassador Philip Baker, Canada's Ambassador to Ethiopia; Joannes Catechist of GatesAir regional partner J.M.T. International; and Mr. Solomon Betre, Deputy Director of the PPPDS.
www.gatesair.com
(JP/LM)
Top Related Stories
Click here for the latest broadcast news stories.