Broadcast News
23/02/2016
Thomson Video Networks 'Behind Every Screen' At CABSAT 2016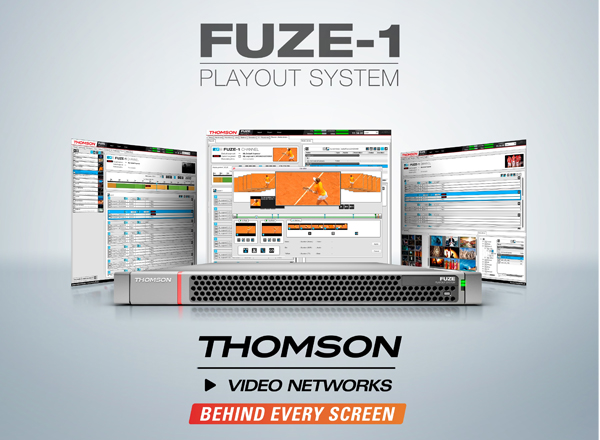 Thomson Video Network plans to highlight its 'Behind Every Screen' approach, combining on-premises and cloud-based resources to create an all-encompassing video infrastructure for ingest/playout, branding, ad insertion, encoding/transcoding, and packaging technologies.
This approach enables media companies to deliver broadcast-grade, highly reliable, and future-proof multi-screen delivery solutions that can offer superior picture quality at the highest density and lowest bandwidth.
High-Density Transcoding for Contribution/Broadcasting With Pristine Video Quality
Thomson Video Networks will showcase its ViBE CP6000 contribution codec, ViBE EM4000 HD/SD encoder, and ViBE XT1000 Xtream transcoder in a contribution and broadcasting application that demonstrates pristine video quality and high-density transcoding. The market-leading ViBE CP6000 features an unprecedented eight HD channels per 1-RU chassis and a modular implementation of the optimal MPEG-4 contribution codecs for industry-leading compression performance in contribution applications. Now featuring an exclusive broadcast-grade SD-to-HD conversion capability, the ViBE EM4000 is the first premium encoder to offer a density of eight HD MPEG-4 AVC channels in a 1-RU chassis. The ViBE XT1000 Xtream enables OTT, cable, and telco customers to launch new turnaround services rapidly and cost-effectively, with support for up to 54 HD channels or 180 SD channels and transcoding from any format to any format.
Channel Origination for Playout and OTT
In a demonstration of best-of-breed channel origination for playout and OTT services, Thomson Video Networks will highlight its FUZE-1 Playout System and ViBE VS7000 multi-screen and HEVC 4K encoder. FUZE-1 is a completely new paradigm that integrates the traditional playout functions of a channel-in-a-box with premium-quality encoding and transcoding for broadcast and OTT delivery, making it ideal for applications such as ad insertion, branding, disaster recovery, and EAS insertion. The award-winning ViBE VS7000 features outstanding picture quality in an all-IP environment with live broadcast-quality encoding, innovative video preprocessing, and faster-than-real-time file transcoding.
thomson-networks.com
Top Related Stories
Click here for the latest broadcast news stories.