Broadcast News
31/03/2015
Bahakel Communications Chooses Thomson Video Networks' ViBE EM4000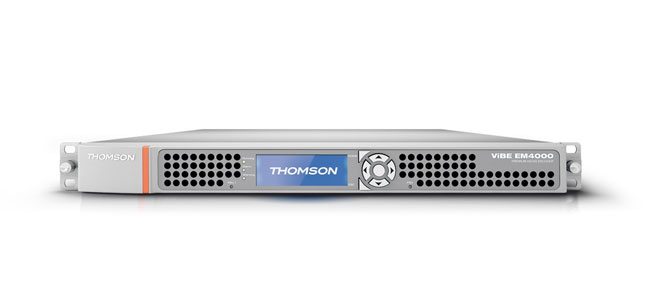 Bahakel Communications, a TV and radio station group based in Charlotte, North Carolina, has selected Thomson Video Networks' ViBE EM4000 HD/SD premium encoder to upgrade its digital broadcast television platform.
It will replace the ageing broadcast emission encoding systems in many of its markets. To date, Bahakel has upgraded three of its stations – WOLO in Columbia, South Carolina; WFXB in Myrtle Beach, South Carolina; and Bahakel's flagship station, WCCB in Charlotte, North Carolina. The upgrades also include Thomson Video Networks' RD1100 interface converter.
"As a Southeast-based operator of several full-power broadcast TV stations, we place a high priority on maintaining quality for all types of programming whether it's live news, entertainment, or sports," said Bob Davis, director of engineering and operations for Bahakel. "The EM4000 is a flexible and user-friendly system that offers high video quality, unmatched platform density, efficient statistical multiplexing, and easy upgradability for additional services – all critical elements in delivering outstanding programming to our viewers. As a longtime customer, we knew we could count on Thomson Video Networks for top-level technology as well as outstanding customer support."
Thomson Video Networks' ViBE EM4000 is the first premium encoder to offer a density of eight HD MPEG-2 or H.264 channels in a 1-RU chassis, making it suitable for a wide range of broadcast operations including satellite, terrestrial, cable, and IP television. The system's density is ideal for operations such as Bahakel Communications that needs to deliver multiple revenue-generating channels without compromising on video quality.
"As an established regional broadcaster, Bahakel understands the importance of providing the highest-quality programming to its customers," said Mark Renfroe, vice president and managing director, Americas, Thomson Video Networks. "We appreciate the ongoing support that Bahakel has given us and the trust they have placed in our encoding technology and customer service. We're confident that the EM4000's outstanding video quality, flexibility, and industry-leading density will meet Bahakel's needs now and into the future."
Photo: ViBE™ EM4000 Premium HD/SD Encoder
www.thomson-networks.com
(JP)
Top Related Stories
Click here for the latest broadcast news stories.