Broadcast News
11/12/2015
Rotolight Announce New Distribution Deal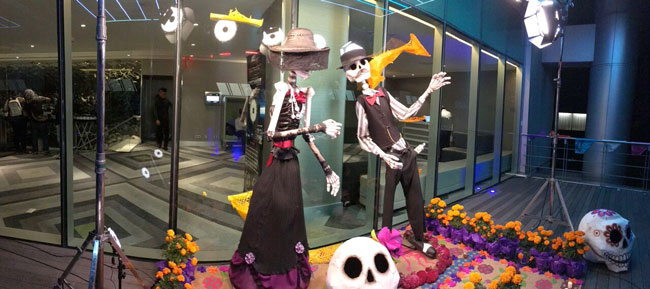 Rotolight has announced a new distribution deal with Simplemente.
"I started my professional career as a cinematographer and it's still my passion" says Monica Reina, President of Simplemente.
Based in Mexico City, Simplemente's team includes business, sales, management and technical support units. The company's collective experience encompasses a wide variety of hardware and software capabilities including networking, film and television production, post-production, hardware installation, training, systems configuration and 24/7 service and support.
"When first I saw the incredible versatility and high quality of Rotolight I got very excited," said Rune Hansen, CTO, Simplemente. "Rotolight's powerful, practical and affordable color-accurate LED lighting gear is ideal for all kinds of productions. Working with the team at Rotolight has been a wonderful experience."
On the production side, Simplemente has helped produce a variety of award-winning films at the forefront of technology. Films co-produced by Simplemente include Mezcal, México Barbaro and Todo lo demás. Simplemente also introduced Mexican filmmakers to products such as the Panasonic HD 24p VariCam and RED camera and the Blackmagic line of post-production hardware.
Recent projects have taken Simplemente's personnel to Peru, Honduras, Colombia, Ecuador and Argentina, with remote project supervision and consultation in additional countries in Latin America. With a history in an array of industries and a wide network of partners, Simplemente possesses an ideal combination of technical knowledge and practical experience.
Barry Grubb, Rotolight's International Sales Manager is looking forward to growing the brand in Mexico and surrounding territories. He said: "To give Rotolight a home in Mexico is a strategic step and pivotal to the growth of Rotolight, with Simplemente's expansive experience in broadcast and film it was a simple choice and the perfect partner for Rotolight, going forward. The LED lighting revolution is a converging market, creating a synergy with stills and video producers, Simplemente reflect the Rotolight philosophy and have the network-reach, reputation and experience to successfully market Rotolight's innovative products. This is a very exciting partnership."
www.rotolight.com
(JP)
Top Related Stories
Click here for the latest broadcast news stories.