Broadcast News
04/12/2015
Qligent Wins Zworykin Award At NatExpo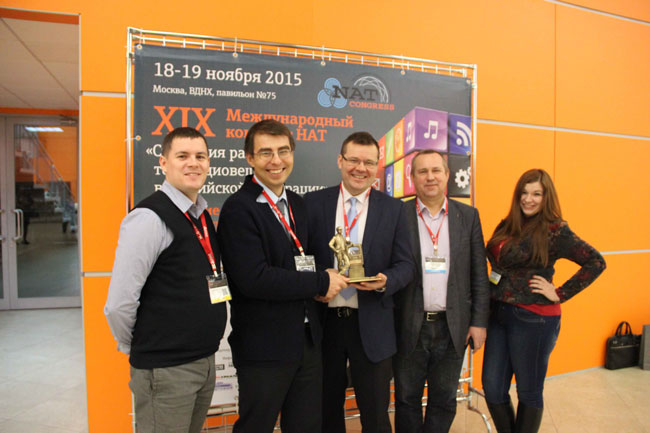 Qligent has received one of four broadcast awards at this year's NatExpo conference. The company was awarded the prize for 'Most Innovative or Modernized Equipment or Technology' in the area of broadcast TV.
Qligent's partnership with Russian broadcaster RT was the basis for the award, comprising a large-scale QoS and QoE OTT monitoring system – which is virtually deployed by systems integrator Tecom Group – in major cities across the United States, UK, Spain, Mexico and the United Arab Emirates.
The turnkey software-as-a-service (SaaS), featuring Qligent's Vision cloud monitoring platform, simplifies the capture, collection and analysis of QoS and QoE parameters, the latter of which determines the end viewer experience. As Vision is cloud-enabled and allows proactive control over service quality, it is possible to carry out distributed monitoring in locations worldwide without the need to deploy a complicated network of probes – a benefit for monitoring OTT services that technically have few geographical limitations.
The Tecom Group's virtual deployment of the entire monitoring infrastructure was a key element of the project, leveraging commercially available IT equipment to support an efficient, centralised monitoring strategy using the Vision software. Tecom Group's strategy eliminates all systems integration and ongoing maintenance of the network infrastructure, which is remotely hosted, maintained and scaled by Tecom Group.
"The recognition of the RT deployment, which ensures a high-quality OTT experience for millions of viewers worldwide, suggests that broadcasters are increasingly looking to new cloud-enabled systems and technology innovations that simplify operations, extend reach and reduce costs based on an OPEX business model," said Ted Korte, COO, Qligent. "Our Vision platform is specifically built to help broadcasters like RT achieve these goals now and moving forward."
The Zworykin Awards are similar to the IBC Innovation Awards, recognising how technology is applied in the real world to benefit broadcasters.
www.qligent.com
(JP)
Top Related Stories
Click here for the latest broadcast news stories.