Broadcast News
10/07/2015
Perfect For A Modern Family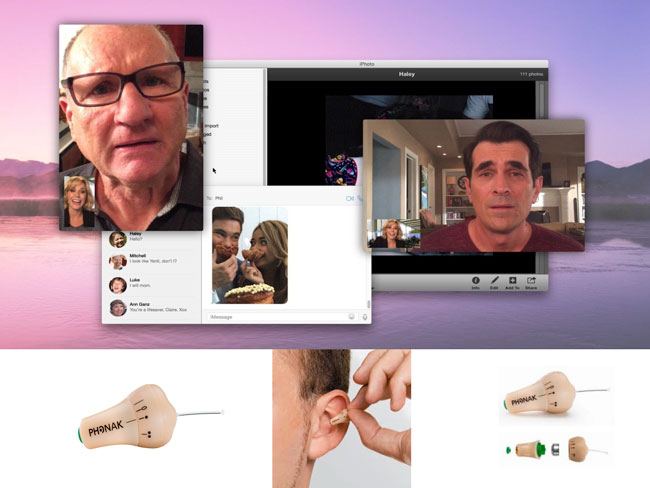 The amazing 'Invisity' virtually invisible in-ear monitor-prompter manufactured by Phonak Communications Switzerland, and distributed via Raycom in the UK, has become a firm favourite of presenters wishing to avoid unsightly tubes and cables.
Whilst its aesthetic properties are admirable, there are also opportunities in film and broadcast for producers and sound engineers to utilize this tiny innovative product in the creation of illusion.
Award-winning sitcom Modern Family made waves earlier this year with 'Connection Lost', presented entirely from the perspective of a laptop screen, and shot using Apple iPads, iPhones and laptops.
But behind the scenes, the episode's live shoots across four different sets meant actors would need to hear each other in real-time in order to interact over simulated FaceTime conversations.
To make this happen, Emmy and C.A.S. award-winning sound engineer Stephen Tibbo turned to Phonak's invisity.
Tibbo had previously used invisity on 'Jake In Progress', as well as for musical or dance numbers on Modern Family, which is produced by Twentieth Century Fox, and airs on ABC.
He said: "The biggest challenge, at least for sound was, when the producers presented the episode, they said we're going to try and shoot the whole thing in one day, and we want to do it live. As I read the script I said, 'Ok, wow, this will be challenging.'
"I don't think we would have been able to do it without Phonak invisity," Tibbo added, saying alternatives would have included setting up cumbersome, time-consuming induction loops round the sets, or using speakers, which would have caused problems when mixing.
"When you watch it, you may not notice it was so technically challenging, but by the way we shot it, it was," Tibbo explained. "But I suppose if you've done your job well, the viewer doesn't notice. And the technology worked for us – it was one of those episodes where, if invisity had failed us, we would have been looking pretty bad, or looking for another job. You have to rely on it."
Phonak Communications said: "We're proud and gratified that invisity helped bring to life one of the most ground-breaking episodes of television to air in recent years. Phonak invisity has been invaluable to countless productions around the world, from comedy, drama, news broadcasts, and even live dance productions.
"Thanks to its tiny size it offers a comfortable experience for the user while being completely invisible to an audience or camera – and as such, its uses are endless."
The invisity is available in one channel or four channel variants (Flex and Four) along with the TX300V transmitter and a range of useful accessories.
This article is also available to read at BFV
online
.
(JP)
Top Related Stories
Click here for the latest broadcast news stories.