Broadcast News
29/11/2016
First Episode Of 'The Grand Tour' Screened On Amazon Prime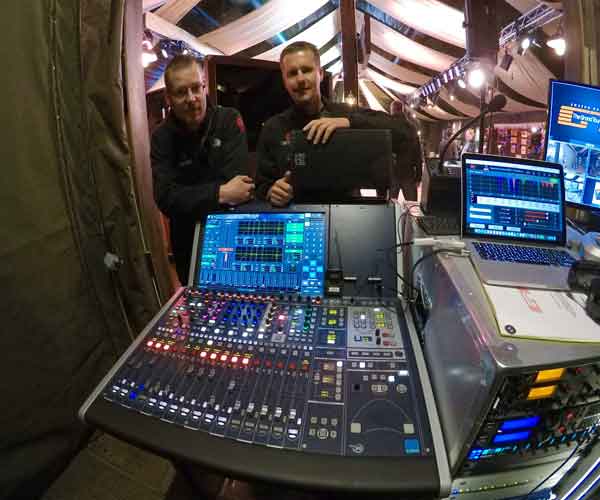 The first episode of 'The Grand Tour', starring Jeremy Clarkson, Richard Hammond and James May, recently screened on Amazon Prime and is reportedly the streaming site's biggest premiere to date.
As the three former 'Top Gear' presenters embark upon a "hilarious global adventure", Netherlands-based outside broadcast service provider United has placed Lawo in the driving seat.
The series is being shot as a multi-camera 4K HDR production at the 23.98 frame rate, as it is being aired in the US.
"United has a track record in 4K and HDR filming, including live concerts by Muse and U2, so this was the main reason we got this job," said sound supervisor Huub Lelieveld, who mixes the recordings along with Rob Ashard and Mischa Kortleve. "For audio, I and my colleague Christian Postma wanted to match the high-resolution video by creating the best audio quality possible."
As well as their cars and the road, the first episode featured footage from inside the show's studio tent while recording in California. As the series unfolds, its presenters are set to become Special Forces soldiers, sign into a secret training base in Jordan, and enjoy a visit to the opera. Accompanying them is United, a full service operator, providing facilities, and technical and creative support for media and broadcast organizations.
"In audio recording, there is no direct equivalent to 4K – the audio is still 48kHz. We wanted to match the picture by creating an audio setup that is completely without compromise – but to be as compact as possible, as everything is flying around the globe," said Lelieveld.
"We held a little brainstorm, and concluded that this meant using the best possible compact audio console for both recording and FOH. For us, there was no question about choosing a Lawo mc²36. I use Lawo consoles daily – as I do other brands of broadcast consoles – and, for me, they are the best choice for functionality, sound quality and reliability."
Lawo's "all-in-one" mc²36 mixing desk is optimized for demanding broadcast productions, providing excellent sound quality and powerful DSP, as well as being natively equipped with RAVENNA/AES67 technology to integrate into broadcast IP infrastructures.
United's requirements for 'The Grand Tour' have resulted in the selection of a 16-fader Lawo mc²36 for FOH, manned by Martijn Kuiper, and a second, 24-fader, mc²36 for the OB gallery that is located in another tent. "We connect one Lawo Compact Stagebox using RAVENNA, and the two consoles are connected digitally using the MADI port on the Compact Stagebox. All I/O is shared between the two Lawos," Lelieveld explained. "The three presenters wear omni lavalier mics and are in a tent with the audience with a PA that, as always, needs to be as loud as possible to make sure the audience hears, and reacts to, the comedy. To get a direct and dry sound, we use Lawo Automix and Cedar Audio DNS8 noise reduction at both OB and FOH. I experimented quite a bit to get a dry as possible sound from the Automix, and found, that maximum drive at every channel and a short (25ms) release worked very well to get quite extreme Automixing."
The aim of the United team was to create an all-digital audio setup to deliver the highest level of detail and resolution, with the least possible vulnerability to noise, hum and buzz. This led them to Neumann KM184D digital mics feeding into Neumann DMI8 boxes for audience reaction – 14 microphones in total.
"The radio mics are from Wisycom, as we needed an RF system that can safely be used all over the world. Wisycom, with its very wide useable frequency spectrum, is ideal for that," said Lelieveld. "To keep everything digital, these are connected via AES."
The Riedel intercom system does not use any analog I/O at all, being connected to the Lawo consoles via MADI, with all analog connections going through the console.
www.united4all.nl
www.lawo.com
Top Related Stories
Click here for the latest broadcast news stories.