Broadcast News
14/05/2015
AEGraphics Serves 2015 Cricket WC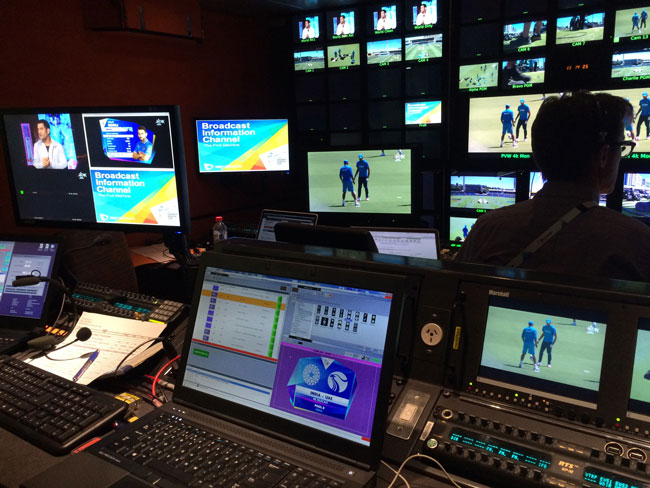 The Cricket World Cup (CWC), held every four years with the top 14 teams in the world competing, is a much anticipated event with a large viewership, typically in hundreds of millions. The 2015 Cricket World Cup was held in Australia and New Zealand. Star Sports, the host broadcaster for the 2015 Cricket World Cup, covered every match live. All the matches played by India, plus the semi-finals and final, were broadcast live in 4K to local cinemas in India.
Alston Elliot (AEGraphics), providers of television graphics and data solutions, was asked to deliver 4K graphics on Star Sports' live 4K coverage of the CWC games.
From their head office in the UK and subsidiary companies in South Africa, India, and Australia, AEGraphics delivers graphics on many sporting events across the globe, offering clients a complete turnkey solution – from the original concept and design of a graphics look, to a bespoke range of software solutions, to the final onsite delivery at live studio and outside broadcast shows.
AEGraphics wanted to ensure successful implementation of this project, so they approached Vizrt, their primary graphics platform provider, for a specialised solution. Vizrt, in turn approached Matrox for the necessary video cards for the project.
The Challenge
The process of delivering 4K graphics was uncharted territory for AEGraphics. Other suppliers had encountered difficulties and performance issues in using 4K graphics and AEGraphics was testing the waters with this project. They had to make sure that the core elements were suitable for the 4K solution. Generating graphics content in 4K, which is four times the normal HD resolution and double the frame rate, meant extra processing – eight times the processing power needed for normal HD resolution. This necessitated a technically innovative, powerful, glitch-free and robust solution, with a proven capability to handle 4K workflows.
Testing and Deploying the Solution
For testing purposes, AEGraphics was supplied with two Matrox DSXLE3/4KO/550 SDI video cards, which were installed in an HPZ820 chassis supplied by Vizrt.
On receipt of the equipment from Vizrt and Matrox, AEGraphics began a testing and development phase in their UK head office. They found that the workflow for 4K did not differ significantly from their previous workflow. The company was happy with how the 4K process fitted into their standard graphics workflow – providing fill and key signals to a switcher that overlaid the graphics onto live video content.
Each Matrox DSXLE3/4KO/550 card fed four 3G SDI signals to carry one 4K feed. One card provided the fill signal and the second card provided the key signal to the switcher. The system performed well for 4K in testing and was shipped to various outside broadcast sites at the Cricket World Cup in Australia and New Zealand.
AEGraphics provided the output of its UHD Vizrt machine direct to NEP Australia (the facilities provider), who provided both the 4K production and broadcast facilities. There was some concern about the synchronization of the eight SDI channels that the fill and key signals consisted of, but both AEGraphics and NEP found the signals were delivered in sync by the Matrox cards at all times.
Eight flypacks, that included four Viz Engines driven by AEGraphics software, were supplied for the host broadcast main graphics feed. An unbranded slave feed was also provided for Doordarshan, the Indian terrestrial state broadcaster. In addition, the ICC (International Cricket Council) needed an independent feed for the large arena screens, which required bigger fonts for better legibility. The graphics were driven by in-house software applications. This allowed for quick population of graphics with data and also removed the chances of errors.
For their regular HD graphics delivery on Cricket World Cup coverage, AEGraphics used 24 HP Vizrt machines with Matrox X.mio2 Plus SDI video cards. AEGraphics uses Matrox cards extensively. Three Matrox X.mio2 Plus cards are used in every one of their eight OB (outside broadcasting) vans in the UK for regular HD workflows.
The Result
Star Sports broadcast live all the matches in the 2015 Cricket World Cup held in Australia and New Zealand. All the matches played by India as well as the semi-finals and final matches were broadcast in 4K to external set top boxes, to cinema locations in India. These were true 4K broadcasts, and the picture quality was enriched further with 4K graphics, provided by AEGraphics in collaboration with Vizrt and Matrox.
Graphics for the regular HD coverage by Star Sports, screened throughout the world, were also supplied by AEGraphics. They were used to display current scoreboards as well as player walk throughs – wicket partnerships, pictures of players with corresponding information on the total number of matches played, their average runs per match, number of centuries and half centuries scored, average runs per over, average wickets taken per match, total wickets and so on.
The graphics displayed kept the millions of viewers well informed and engaged in the game. The 4K pictures, with four times the quality of HD, enabled AEGraphics to generate smaller graphics without losing the important details they contained.
"UHD brought extraordinary clarity to the pictures, particularly for crowd shots, and full-frame graphics could be displayed without any artefacts," said Nick Baily, CEO, Alston Elliot.
"Without assistance from Matrox we would have been unable to deliver 4K graphics for this event," stated Stuart Coles, Sales Director, AEGraphics. "We are pleased to be one of the first graphics companies to deliver 4K graphics and Matrox enabled us to achieve this. The client was extremely happy with the results produced and a proven ability to deliver 4K graphics is another tick in the box for our company."
Image: Graphics in production by AEGraphics for Star Sports live coverage of the 2015 Cricket World Cup matches.
www.matrox.com
(JP)
Top Related Stories
Click here for the latest broadcast news stories.