Broadcast News
03/12/2014
Matrox Prepares For ISE 2015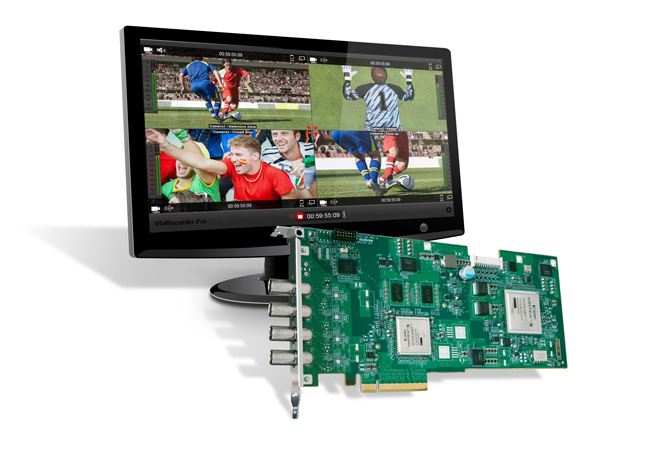 Matrox Video and Matrox Graphics are to share stand 11-F68 at ISE 2015 (Amsterdam RAI, Feb. 10-12).
Matrox Video will showcase the Monarch HD video streaming and recording appliance and the new VS4Recorder Pro multi-camera recording app. Matrox Graphics Inc. will demonstrate the new C-Series multi-display graphics cards, the cost-effective Matrox Maevex AV-over-IP encoders/decoders and the field-proven Matrox Mura MPX video wall controller boards.
Video Streaming and Recording Appliance
Matrox Monarch HD is an H.264 encoder designed to simultaneously stream a live event and record a mastering-quality version for post-event editing. Matrox Monarch HD generates an H.264-encoded stream compliant with RTSP or RTMP protocol. While encoding the video at bitrates suitable for live streaming, Matrox Monarch HD simultaneously records an MP4 or MOV file to an SD card, a USB drive or a network-mapped drive.
The Monarch SDK, an HTTP-based API, includes documentation and sample code that let AV and broadcast equipment developers write applications to configure and control Monarch HD streaming capabilities. Monarch HD can also be integrated with a Crestron controller, which allows operators to start and stop streaming and recording from within the familiar Crestron interface.
Multi-camera Recording App
VS4Recorder Pro is designed for use with Matrox VS4 quad HD capture cards. Each VS4Recorder Pro system captures up to four video and audio inputs to create files for use with popular editing apps from Adobe, Apple and Avid and for archiving. H.264 is provided in either MOV or MP4 wrappers. AVI files can be created using the Matrox MPEG 2 I-Frame codec. MOV QuickTime files can be created using DV, DVCPRO, DVCPRO50 and DVCPRO HD. VS4Recorder Pro also functions as a multiviewer, even when monitoring interlaced sources on progressive computer monitors. VS4-based systems are also ideal for multi-camera live production streaming with Telestream Wirecast for Windows or StudioCoast vMix software.
Multi-display Graphics Cards
Matrox C-Series multi-display graphics cards power video management systems and small-scale display walls in control room, digital signage, enterprise, industrial, security, A/V, and embedded system applications. C-Series cards feature 2 GB of on-board memory and secure mini DisplayPort connectivity. Matrox C680 supports up to six 4K/UHD displays. More displays can be supported by inserting two C680 cards into a system. The board-to-board framelock feature ensures synchronisation of all displays to reduce tearing on digital signage and video walls. Matrox C420 is the fastest quad card with passive cooling for increased reliability and silent operation.
H.264 Encoders/Decoders
Matrox Maevex 5100 Series H.264 encoders and decoders deliver AV streaming at low bandwidth over standard IP networks for display or for storage anywhere on the LAN. Maevex encoders, priced at only $999 US (MSRP), can be combined with Maevex decoders or a third-party software decoder to stream up to Full HD AV content to displays and projectors for digital signage, presentation/education, corporate information display, collaborative video wall and many other applications. Maevex can also be used to record desktop sessions to NAS, whether for review or evaluation purposes. Maevex comes bundled with Matrox PowerStream software for easy remote device management, stream switching and streaming/recording parameter adjustment, including user-definable bit rates between 100 Kbps and 25 Mbps.
Video Wall Capture and Display Boards
Matrox Mura MPX Series capture and display boards feature flexible inputs and high-quality outputs allowing AV integrators, system builders and equipment manufacturers to build high-density video wall controller systems supporting custom video walls with up to 56 inputs and outputs. Scaling, switching and compositing of source content including HDCP feeds are easily managed through intuitive software control options including Matrox MuraControl third-party software and integration with existing AV control systems. Transitions and effects can be applied to both recorded and live content using the latest Mura Network API – a platform that software developers have used to build their own powerful video wall control solutions for Mura-based video walls. At ISE 2015 a Matrox P690 graphics card will be used alongside Mura MPX to power an independent console display.
www.matrox.com
(IT/JP)
Top Related Stories
Click here for the latest broadcast news stories.