Broadcast News
27/06/2014
Matrox Preview For IBC2014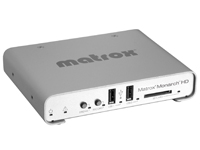 New additions to all Matrox product lines are to be highlighted including live streaming and recording solutions, 4K video monitoring cards, scan converters, multiviewers, editing devices and OEM products, it has been announced.
Matrox Video will showcase video streaming and recording appliances, live production streaming systems, 4K video monitoring cards, multiviewers, scan converters, editing devices, and developer products.
Matrox Monarch HD
— Video Streaming and Recording Appliance
Matrox Monarch HD™ is a small, easy-to-use H.264 encoder designed for professional video producers who need to simultaneously stream a live event and record a mastering-quality version for post-event editing.
From any HDMI input source such as a camera or switcher, Matrox Monarch HD generates an H.264-encoded stream compliant with RTSP or RTMP protocol.
While encoding the video at bitrates suitable for live streaming, Matrox Monarch HD simultaneously records a high-quality MP4 or MOV file to an SD card, a USB drive, or a network-mapped drive. The new Monarch SDK, an HTTP-based API, includes documentation and sample code that let AV and broadcast equipment developers write applications to configure and control Monarch HD streaming capabilities, giving them a very straightforward way to include a high-quality webcasting service as part of their overall product offerings.
The IBC2014 demonstration will present Monarch HD integrated with a Crestron® controller, which allows operators to easily start and stop streaming and recording from within the familiar Crestron interface.
Matrox VS4 and VS4Recorder
— Multi-Camera Streaming and Recording Systems
Matrox VS4™ is a quad HD capture card ideal for multi-camera live production streaming with Telestream® Wirecast® for Windows® or StudioCoast vMix software. It not only sends video feeds for streaming, it also facilitates ISO recording to disk of all the original video and audio feeds for post event editing via a Matrox plug-in for Wirecast or Matrox Video for Windows (VfW) codecs for vMix MultiCoder software.
The VS4Recorder™ multi-camera recording app works with the VS4 card to give live event producers complete synchronized control over capture of the four inputs connected to the VS4 to create high-quality MOV, MP4, or AVI files for use with popular editing apps, for immediate upload to the internet or for archiving.
Matrox Mojito 4K
— 4K Video Monitoring Card
Matrox Mojito™ 4K is a quad 3G-SDI, 4K video card for use with Adobe® Creative Cloud™ professional video editing tools on Windows platforms. It provides 10-bit H.264 intra-frame rendering and enables realtime monitoring and output of video footage at resolutions up to 4096 x 2160 and at frame rates up to 60 fps (4Kp60). Users can ingest, edit, render and export in full 4K.
Matrox MicroQuad
— Multiviewer
Matrox MicroQuad™ is a four-channel SDI-to-HDMI multiviewer for 3G/HD/SD at a breakthrough price. It lets broadcasters and A/V professionals use an affordable HDMI display to view up to four SDI video signals and show or hide labels and VU meters. Its powerful 10-bit scaling engine and advanced filtering algorithms ensure a crisp, artifact-free monitoring experience. MicroQuad can be controlled using buttons on the unit itself or from a distance using a Windows-based app.
Matrox Convert DVI Plus
— Scan Converter
Matrox Convert™ DVI Plus is a cost-effective, genlockable HD-SDI scan converter that lets broadcasters easily and economically incorporate content from computers, iPads and iPhones into broadcast programs. It is ideal for creating broadcast-quality video from computer applications such as Skype, YouTube, Google Earth, FaceTime, ProPresenter, PowerPoint and web browsers.
The region-of-interest feature lets the user define any region of any size from the computer display and output just that content at the required broadcast resolution. If the selected area doesn't match the output resolution, Matrox Convert DVI Plus provides horizontal and vertical upscaling and downscaling. The unit can be genlocked to an SD analog black burst (bi-level) or HD tri-level genlock source. Proc amp controls on the output let the user adjust the hue, chroma, saturation, and brightness levels. In addition, Matrox Convert DVI Plus can be used to drive projectors and large displays at live events.
Matrox MXO2 LE MAX
— Editing Device
Matrox MXO2 LE MAX™ provides broadcast-quality input, output and monitoring for leading editing apps from Adobe, Apple® and Avid®. It turbocharges H.264 encoding for deliveries to the web, mobile devices and Blu-ray up to five times faster than software alone without sacrificing quality. In addition, MXO2 devices provide cross-platform Mac® and Windows support and are still the only solutions that connect anywhere, Mac and PC, via Thunderbolt™, PCIe® or ExpressCard/34®—with the same versatile unit.
Matrox DSX
— Developer Products
Matrox DSX™ Developer Products combine a full range of multi-channel SD/HD/4K I/O hardware, including low profile cards that support up to eight reconfigurable SDI inputs and outputs, with feature-rich Windows and Linux SDKs and powerful tools for quick app development. Matrox technology enables OEMs to create advanced broadcast graphics systems, video servers, channel-in-a-box equipment, contribution and distribution encoders, and non-linear editing systems that provide 24/7 reliability in even the most demanding environments. Premium hardware features include multiple motion adaptive de-interlacers, up/down/cross converters and video compositors. A constantly expanding selection of codecs (DVCPRO HD, MPEG-2, XDCAM HD AVC-Intra, H.264, Apple ProRes, Avid DNxHD, PitchBlue, and more) and extensive file format support (GXF, MXF, MOV, AVI, MPG, MP4, and more) meet evolving needs.
matrox.com/video
Top Related Stories
Click here for the latest broadcast news stories.