Broadcast News
10/03/2015
Jungle Upgrades Suite With Genelec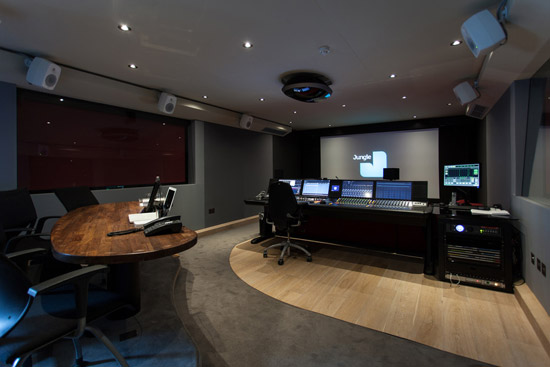 Soho-based post facility Jungle has upgraded its cinema suite with the first Genelec 1238A tri-amplified SAM monitor system in the UK.
The refurbishment of the Wardour Street offices bring all of its audio facilities under one roof. The company built a new cinema space, with similar dimensions to the old facility, but with a more efficient sound system capable of producing Stereo, 5.1 and 7.1 content.
The Genelec SAM system was selected because they have the ability to adapt to the room environment, but there was also the need to ensure a level of consistency across many of Jungle's smaller suites which incorporate Genelec 8250 and 8240 systems.
Supplied by Source Distribution via Bournemouth-based retailer Absolute Music, the system was calibrated using Auto Cal by Source's Andy Bensley in conjunction with Dolby.
Patrick James, Technical Director at Jungle, says: "Genelec has a fantastic reputation and some of the best products in the world. The Genelec 1238A offers a complete solution in one box and by integrating it into our cinema suite we continue to offer our clients the best in cinema sound."
The Genelec 1238A is a three-way SAM monitor designed to adapt to its acoustical environment by tuning the frequency response to compensate for acoustical room influences and to achieve ultimatee alignment of volume levels at the listening position. The 1238A features a 15-inch (380mm) bass driver, 5-inch (130mm) midrange driver and a 1-inch (25mm) metal dome tweeter, with the mid and the high-frequency drivers mounted in the proprietary Directivity Control Waveguide (DCW). Each of the drive units has a power amplifier with a total rating of 500W for the woofer, 250W for the mid-range, and 200W for the tweeter. Frequency response runs from 35Hz up to 21kHz ±2.5dB.
The Genelec 1238A system replaces the Apogee sound monitors which had been used previously.
www.junglestudios.co.uk
(IT/CD)
Top Related Stories
Click here for the latest broadcast news stories.