Broadcast News
12/09/2016
HHB Group & Genelec Launch Genelec Experience Centre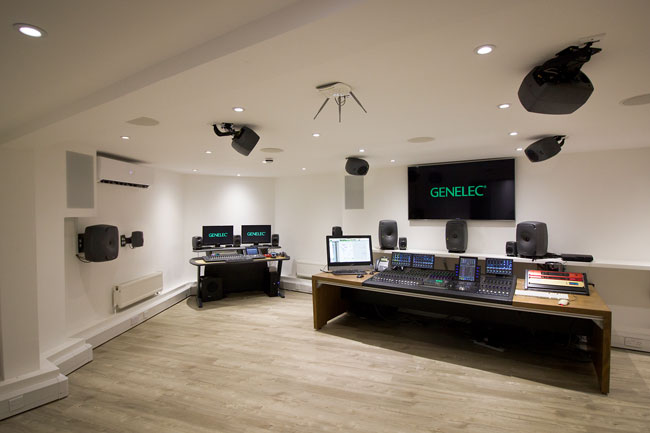 HHB Group and Genelec have unveiled the Genelec Experience Centre. The 34.5 sq m facility, located in the Fitzrovia area of London, will allow visitors to select source material of virtually any format and evaluate Genelec monitors in stereo, surround and immersive audio configurations.
The centre's audio architecture is able to route any source to any destination, enabling visitors to choose to audition anything from a stereo pair of compact 8010A monitors to a full 11.1 immersive audio system.
The 11.1 system in question partners an Avid Pro Tools | S6 control surface presented in AKA Design studio furniture, and combines seven 8351A SAM studio monitors, four 8330A SAM studio monitors overhead and two 7370A SAM studio subwoofers. Alongside the facility's Pro Tools | S3 control surface is a 5.1 configuration of five 8320A SAM studio monitors and one 7350A SAM studio subwoofer, while the 8010A studio monitors and two 8430A audio-over-IP SAM studio monitors demonstrate both analogue and digital compact loudspeaker formats.
A second 5.1 system highlights Genelec's architectural installation products and includes five AIC25 active in-ceiling speakers and one 5041A active in-wall subwoofer, while two AIW26B active in-wall speakers can be run in stereo mode or in 2.1 mode in conjunction with the 5041A. Four 4030B installation speakers are also situated in the Scrub sales office to demonstrate small to mid-sized commercial installations.
Visitors can choose source material from different formats including MP3, CD, DVD, Blu-ray, PlayStation, Pro Tools, Logic, Nuendo, Spotify and Tidal, with Blu-ray, Pro Tools and Nuendo providing Dolby Atmos compatibility. The system is also compatible with Auro-3D and DTS:X, and can support low-order ambisonics and binaural formats. Use of high-quality signal processing, audio conversion and Dante audio networking – courtesy of products from BSS, Focusrite and DAD – brings flexibility to the centre, as well as reflecting the increasing adoption of this technology in the industry.
Jani Jalonen, Marketing Director, Genelec, said: "Outside of our own factory in Finland this is without doubt the most comprehensive Genelec demonstration facility in the world, and we're thrilled to be able to invite customers to London to experience everything that Genelec loudspeaker technology can offer. If you want to hear our products in action and discuss any aspect of speaker selection, placement and calibration, then this is the place to visit."
www.hhb.co.uk
www.genelec.com
(JP/CD)
Top Related Stories
Click here for the latest broadcast news stories.