Broadcast News
05/03/2015
ARRI Launches ALEXA Mini At BVE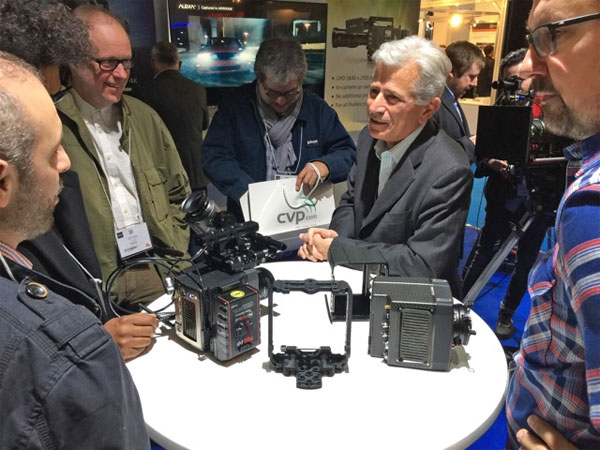 Visitors to this year's BVE show were treated to one of the biggest releases so far this year, the announcement that ARRI would be adding to its camera range with the new ALEXA Mini.
The buzz at the ARRI stand was palpable as journalists, professionals and students alike crowded round to get the first glimpse of the new addition to the ALEXA range.
The ALEXA Mini can be operated by wireless remote control, as a normal camera with the ARRI MVF-1 multi viewfinder attached, or with an on-board monitor and controlled via the user button interface on the camera body.
A symmetrical design allows filming upside-down and in portrait mode, while multiple accessory points enable creative mounting solutions. The interchangeable lens mount can be replaced with any of those designed for the ARRI AMIRA, allowing the use of B4 video and EF mount stills lenses.
Multi-camera setups such as 360° plate shots facilitated by the external Codex recorder, which can record image streams from up to four ALEXA Minis simultaneously. The camera's max frame rate of 200 fps means it can also be used for slow-motion cinematography. The ability to use CDLs and 3D LUTs in-camera for on-set colour management aims to reduce time and money spent in post.
An integrated lens motor controller allows new active lens motors to be connected directly to the titanium PL mount, so focus, iris and zoom settings can be controlled from ARRI hand units without an additional external box. Further operational settings can be made remotely when working with the ARRI WCU-4 hand unit.
Images from the ALEXA Mini are uniquely suited to next generation HDR (High Dynamic Range) displays. In addition, the ALEXA Mini's camera speeds of 0.75 – 200 fps allow it to be for slow-mo shots, as well as HFR acquisition.
Details and specs are available at:
www.arri.com/alexamini
(JP/IT)
Top Related Stories
Click here for the latest broadcast news stories.