Broadcast News
24/02/2015
Belar Electronics To Improve WizWin Software For 2015 NAB Show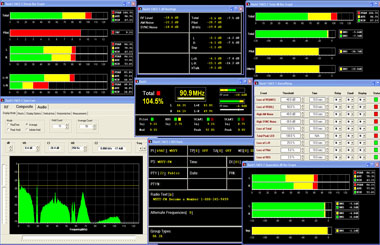 Belar Electronics is to improve its WizWin software for its AM, FM and HD Radio modulation monitors.
The new advanced features capture modulation activity associated with analog and digital radio broadcasts over a specific time period, enabling broadcasters to leverage historical data to more effectively identify and solve air chain problems.
Using the IP connectivity of WizWin software, users can remotely tap into Belar's FMHD-1 and FMCS-1 units and study trends through a series of graphics and displays that offer more detail than simple meters. Users can quickly confirm if their signals are overmodulated, and more effectively adjust their processors to maintain top quality over-the-air sound.
"Broadcasters are always seeking to maximize their signal performance and audio quality," said Mark Grant, CEO, Belar Electronics. "By providing a history of richly detailed and graphical information instead of instantaneous snapshots, broadcasters have more visual clarity and information as they tailor their processing. And by feeding this information to any networked location, users can make these adjustments in the field instead of being forced to drive to the main studio or transmitter site. We're empowering more timely adjustments to concerning air chain problems."
(Booth C2452)
www.belar.com
(CD)
Top Related Stories
Click here for the latest broadcast news stories.