Broadcast News
19/02/2015
Finance: The Flexible Way To Make Cash Flow Work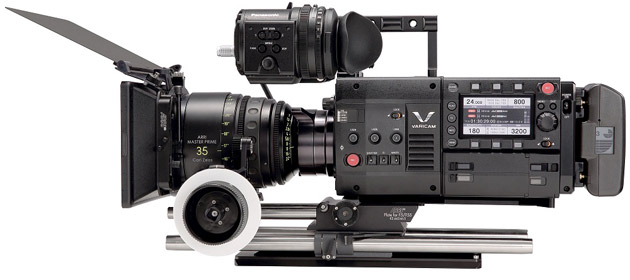 "How are you going to pay for your equipment?" It's the question sales people the world over dread to ask. But it's a pretty important one! And "finance" remains a common answer, just after "dunno" and "do I have to pay for it?" By WTS Sales Manager Duncan Payne.
The leading manufacturers still regularly offer attractive finance packages and it remains a great way to buy your kit. I just think it has a reputational issue. Finance is all too often seen as an option for those who can't get a bank loan or don't have the cash to buy outright. This couldn't be further from the truth. It's a stamp of approval for any business that an external financial institution is prepared to trust you with their money.
Panasonic is the latest manufacturer to offer a finance package – which you can take advantage of through WTS – and it's one that is slightly different from the standard two-year 0% deals offered by most. A six-month payment holiday on either of the new Varicam models – the 4K Varicam 35 or the high-speed HD Varicam HS – allows a great head start for a business trying to break in to a new market or establish this new product in its existing sector.
Varicam was a name synonymous with the wildlife world back in the good old days of tape, and the updated file-based versions look likely to retake lost territory, and then some. Top-end DoPs and drama-makers are already 'on-board' with the Varicam, with testing underway for the upcoming shooting season, so a well-thought-out finance deal like the one on offer really works. It allows the production to take the camera immediately, get fully up to speed on it through the testing, and probably even finish the shoot before they have to start any repayments. And with an option to spread the payments over as long as five years, it's a truly flexible way to make the production's cash flow work for you.
But no production is going to make a camera decision just because it's cost-effective. Fortunately the Varicam looks like an amazing camera too. As I write this, the BSC stand builders will be finishing off for the Cinematography show at Pinewood, and the place will be full of Varicams – including two from our WTS stock – ready to take on the Arri Alexa.
At WTS, we recently put together a finance package for one of our regular freelancers looking to buy a Fujinon Cabrio lens. He needed a mixture of a payment holiday and an interest-free deal. Having worked for six years at a finance company, I was able to tailor a package that – most importantly – suited the client. We are finding that more and more a one-size-fits-all solution ends up not suiting anyone perfectly. Most deals need a little tweak.
The key is dialogue. A customer will often separate the two processes, choosing to negotiate the specific kit list and price independently of the finance package. But often the best result for the purchaser is to let the three parties work together, and it's here that communication is key to prevent the deal breaking down. Having a frank and open conversation about what the real issues are around a purchase will almost always end up with a win-win-win situation for the supplier, customer and finance company. That's exactly what happened with our freelancer, and he got his Cabrio on the terms that worked for him, delivered in time for his shoot, with minimal fuss.
A perfect purchase, and a million miles from the 'standard' terms he'd have got if he'd have taken a different approach.
Just a quick word about when finance might not be appropriate. A freelance customer/friend of mine recently wanted to borrow £5,000 for a camera, just for six months until he got paid for a job. Relatively low-value finance deals like this will often incur the same documentation fees (usually £200) and option-to-buy fees (typically £50). Add this to the relatively high rates that your deal might attract just to make it worth the finance company's while and the deal starts getting expensive.
I'd suggest that finance works best on deals of around £8,000-plus, with a typical minimum term of two years. If your purchase ticks these boxes then finance is a viable option that you should consider.
The Regional Growth Fund is another incentive for non-London businesses to finance. If you're turning over less than €35m and you'd like to knock up to 20 percent off of your purchase price – in addition to the great deal that we at WTS would give you anyway – you might want to come and talk to me. I'll be at BVE all day, every day. And you won't miss the WTS stand... it's truck-tastic. If you can't make it to the show, just call 020 3667 1922, or email
duncan.payne@wtsbroadcast.com
and I'll be happy to help.
The article is also available to read in
BFV online
.
(IT/JP)
Top Related Stories
Click here for the latest broadcast news stories.