Broadcast News
28/01/2015
Dedleg To Exhibit At BVE 2015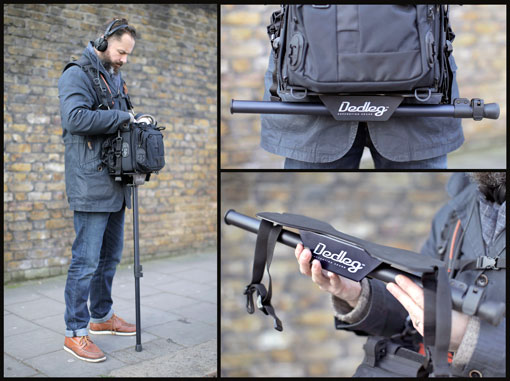 Dedleg, designed by a UK soundman, is a game changer for location sound recordists that work out of a bag.
Dedleg is a 2 stage carbon fibre monopod which will fit to any sound bag. It's deployed in seconds in three easy moves enabling the sound recordist to take all the weight off his or her shoulders and back. It's light, at 740g/1.65 pounds, just over the weight of one NP1 battery, and due to its clever design, it can stay folded unobtrusively under your bag when you're on the move.
Due to the popularity of wireless links to camera and multi track iso recording, many sound recordists now don't need to run around attached to a camera. They often find themselves static for long periods of time wishing they had something to rest their sound kit on. Dedleg allows them to carry around with ease their own sound bag stand which they can use as and when they want, allowing them to concentrate on getting the sound they need without it being a test of physical stamina and back strength.
Paul Zanders, the designer, said: "You carry in your bag a sophisticated recording studio. You are able to record multiple files to multiple tracks with embedded metadata and timecode stamps. You have the power to mix numerous inputs and outputs to achieve perfect audio. Most of the time you have to do all this with one hand in a bag you wear around your neck. It's about time you got some support."
It took a sound man to come up with this idea as most manufacturers don't have the experience of location work. It's great having a good bag and a comfortable harness, but what is really needed is something to rest your sound kit on, which is always with you.
Dedleg comes in its own carry case and fits to any sound bag via clips attached to the bag's D rings. The lightweight aluminium support plate sits under the bag which then carries the carbon fibre monopod either in a horizontal carry position or in the vertical position. The leg is deployed by extending the monopod out to the side through the pivot glide and then swinging it down to the vertical. Very simple.
See Dedleg up close on the Dedleg stand at BVE Expo London, London Excel, 24-26 February.
www.dedleg.uk.com
(CD/JP)
Top Related Stories
Click here for the latest broadcast news stories.