Broadcast News
23/01/2015
Avid Announces Pro Tools 12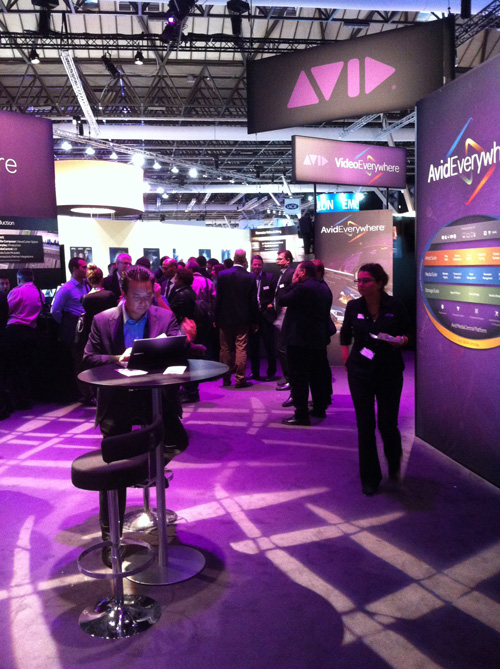 Avid has announced Pro Tools 12, featuring new flexible licensing options, as well as new innovations in Avid Cloud Collaboration and new services in the Avid Marketplace.
"These innovations demonstrate our commitment to providing audio customers with the choice, power, and flexibility they need to create the highest quality music and audio," said Chris Gahagan, senior vice president of Products and Technology at Avid.
"With Pro Tools 12, audio professionals can now access the software in more ways than ever. They can find new talent and plugins, and get wide exposure for their work via the Avid Marketplace. And with the upcoming Avid Cloud Collaboration, customers will be able to create, connect, and collaborate in unprecedented new ways."
Pro Tools 12
delivers new flexible licensing options, allowing customers to subscribe by as little as $29.99 per month, or to buy it outright. Users can stay current with future software updates and innovations as soon as they are released via the cloud, at no additional charge.
Avid Cloud Collaboration
, initially to be accessed by Pro Tools users with others to follow, is a set of collaboration capabilities that enable artists to compose, record, edit, and mix sessions working with other Pro Tools users in the cloud, as if they were together in the same studio.
Users invite other artists to collaborate on a session using built-in chat, or find new collaborators through the new Avid Marketplace Artist Community. If the person they want to work with doesn't already have Pro Tools, Pro Tools | First can be downloaded to begin the collaboration immediately.
Features include:
• Secure and hassle-free setup: Post sessions to your own cloud storage space and invite others to collaborate
• Fully integrated collaboration: Work on the same session at the same time or create offline and share updates directly within Pro Tools
• Comprehensive workflows: Share audio and MIDI tracks, edits, mix changes, automation, and more
• Simplified project and media management: Keep track of all contributors and version changes with automatic and fully customisable metadata tagging
• Built-in communication tools: Engage with collaborators through text or video chat directly from within Pro Tools
Avid Marketplace
invites Pro Tools users to engage in a community of artists, acquire new plug-ins and apps as they need them and store and share their work on a global platform.
• Find new talent and start new collaborations: With the Artist Community, any media professional and organisation can search for the skills and specialties they need on a project, and start a working relationship.
• Get plug-ins and apps immediately: With the Avid App Store, artists can find and immediately download the latest plug-ins and applications directly from within their creative tools
• Store and share their work with the world: The Avid Content Marketplace provides a new channel for artists to monetise their work by sharing it with a wide network of potential purchasers – with all licensing and rights agreements worked out through automatic templates.
Avid also announced that 17 new plug-ins and nine new plug-in bundles are now available in the Avid Marketplace and as in-app purchases in Pro Tools.
There are now over 60 Avid plug-ins and bundles available for in-app purchase for Pro Tools | First, Pro Tools, and Pro Tools | HD. The new bundles include:
• Eleven Effects Bundle – A collection of 17 Avid AAX Native, DSP and AudioSuite 64-bit plug-in effects
• Pro Series Bundle – Includes all five of the popular Avid Pro Series processors in AAX Native, DSP and AudioSuite 64-bit format as a single bundle
• First Distortion Bundle, First Reverb Delay Bundle, First Guitar Bass Bundle, First Modulation Bundle, First EQ Dynamics Bundle, First AIR Effects Bundle, and First Air Instruments Bundle – Include selections from the new Eleven Effects and other Avid plug-ins, allowing Pro Tools | First users to access the professional creative tools they need to create richer sounding, more complex mixes.
Pro Tools software subscription and licensing options will be available in February 2015.
www.avid.com
(IT/JP)
Top Related Stories
Click here for the latest broadcast news stories.