Broadcast News
09/01/2015
Peace, Love And 4K Camcorders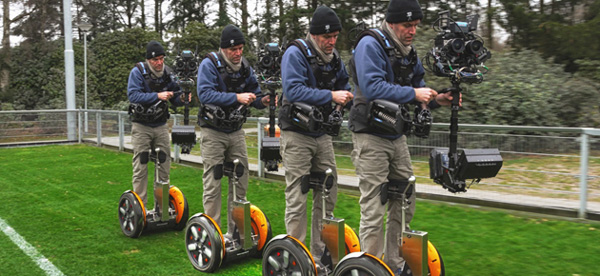 For those in the know, 2014 was a very groovy time for camera design. Cameraman and WTS Broadcast Production Specialist Patrick van Weeren looks back on the year that was.
2014 brought us very definitely into the 'swinging sixties' of camera design, with fast-moving innovation and free-thinking creativity unleashed on the market. And if the rest of the decade is as promising as the '60s was for music and films, we're in for a great time...
This was the year when camera operators finally got a response from manufacturers to their pleas for greater user-friendliness – a welcome volte-face on the recent stance of burying the interface at the bottom of the to-do list. Some cameras were slimmed down to no bigger than your average house-brick, while others like the AJA CION, Sony PXW-FS7 and Arri Amira took inspiration for their shoulder-mount design from – appropriately enough – classic 1960s models by Aaton, Éclair, Cinema Products and Arriflex.
The high-end Amira wasn't Arri's only bombshell of the year, as they also dropped into conversation a 3.2K upgrade for their cameras next year. But they may also have their hands full with a possible new competitor in 2015.
It's that high-end market that Panasonic unexpectedly has in its sights with the VariCam 35 and HS – all the way up to the RED Epic, Sony F55 and Arri Alexa. Will they pull a rabbit out of the hat in the same way that they did with the HD version of the VariCam at the beginning of this century? That incarnation has outlasted quite a few 1080 cameras simply by virtue of its supreme image quality, regardless of its limitations of resolution.
RED was the surprise development towards the end of the year as the thus-far stand-alone top-end production camera morphed in to a studio/OB camera solution with a spec to match anything out there. Stay tuned for further developments as it is on the frontline of the resolution race and will be integrating its 6K systems into 4K/UHD broadcast workflows.
The FS7 was Sony's weapon of choice as it finally responded to the much-loved Canon C300. It's certainly an eye-catcher, with its alluring price, 4K capability and continuous slow-motion up to 150fps in PAL.
The camera industry has been consumed by a tech spec race, and this has brought benefits for end users across the full price spectrum. In the handheld camcorder range, JVC has started to show its strength, with four new 4KCAM cameras unveiled in November. I really like the GW-SP100E UHD mini-cam, which could be the multi-task tool that any cameraman wants within easy reach. With remote control, remote UHD recording and an interchangeable lens mount, JVC's version of the action-cam format steps things up a notch.
A little higher up the price ladder, the boundaries between DSLRs and video-style cameras gradually blur, with Canon's C300 and C100 still among the favourite brands of the last year. But Sony's FS7 and Alpha 7s, along with Panasonic's GH4, have gained a lot of momentum, primarily thanks to their 4K capabilities. Under pressure to play catch-up, Canon has launched the C100 Mark II. While 4K is not on the menu, combining the Mark II with STM lenses does mean that auto-focus tracking has finally reached the professional world.
The long-awaited CION remains the great imponderable. Announced to much surprise and excitement at NAB in April by AJA, a manufacturer known for the quality of its product, there was genuine enthusiasm for this new highly specced camera. If only it could have been ready for the summer shooting season I'm pretty sure it would have done well. Competitively priced and with PL mount it could have made a real dent in the market.
The CION may take a little longer to establish itself, particularly as the Sony FS7 has landed with such a resounding bang. But making a camera isn't as simple as putting a lens mount and sensor in front of your computer equipment – as AJA's competitors have found when rushing out cameras that then required endless firmware updates. Bringing a finished product to market is surely a better tactic. As a famous shampoo advert once said: "You never get a second chance to make a first impression."
I spoke with a senior manager at one of the manufacturers named here, and he was bemoaning the number of cameras vying for the consumer's pound/euro/dollar. It does seem that there has been a great number of cameras launched this year. Let's hope for some stability this year to allow models to get established and reduce the fear factor when it comes to buying a camera.
The article is also available to read in
BFV online
.
(IT/JP)
Top Related Stories
Click here for the latest broadcast news stories.