Broadcast News
16/12/2014
Studiotech Launch Studio Mobile NLE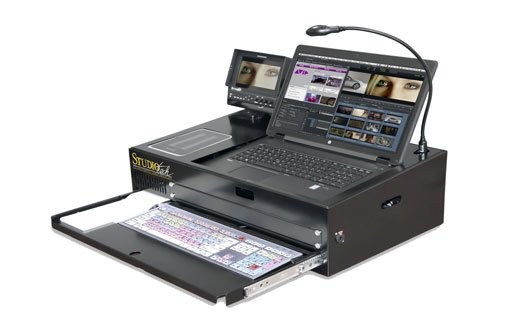 Studiotech Belgium has launched the Studio Mobile NLE, a flyaway Non Linear Editing system, with the prime objective of making field activities for editors and operators speedy, simple and reliable.
The Mobile NLE Studio offers all the power of a mobile editing system. Easy to set up, use and store, it is readily portable to ensure coverage of any event at express speed by providing quality results and powerful graphics. Field production is a reality for most news editors and in many cases, they make do with a laptop that operates outside their editorial offices. Working conditions, often difficult and unsatisfactory, frequently forces them to use add-on equipment involving connections that are sometimes basic and unreliable.
The complete system includes Avid Media Composer, a Laptop (HP 17'' Zbook or similar, as required by customer), Avid Mojo DX data acquisition card, monitoring screen, video patch for I/O connections, and a microphone for voice-overs. It complies with international airline regulations, is quickly operational with very easy, accessible inputs and outputs, and is a lightweight system, cheaper to transport than traditional tower or rack work stations.
The unit is assembled in an easily portable but robust transport case and is designed for fast and easy set up, essential for NLE mobile studio use that may include tough field conditions.
The new unit has recently been trialled very successfully in Senegal for the Sommet de la Francophonie.
www.studiotech.be
(CD)
Top Related Stories
Click here for the latest broadcast news stories.