Broadcast News
15/01/2014
Studiotech Launch Mobile Production Studio System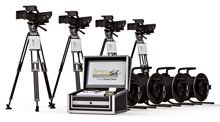 Global systems company Studiotech have launched a new Mobile Production Studio system.
"The new system gives quick access to all the necessary facilities to manage multi-camera events such as news gathering, conferences, concert backstage coverage, sports reports etc.," a statement from the company said.
"It fully complies with IATA transportation regulations of size and weight, and a major advantage is its quick and easy set up and installation."
The multi-camera system allows up to four cameras using embedded audio, up to 100 metres from the control unit. The connection for each camera is via a single cable supplied on a drum.
The central control unit features a Sony MCS-8M multi format compact switcher,with one mix effect.
Inputs include the signals from the four cameras. Program and Preview output signals are provided and may be routed to transmission and/or to each of the cameras. A Sony PWM-50 XD CAM HD 422 card recorder/player is provided for recording or playouts.
An XLR connection is provided for the intercom headset at each camera position.
A 24" screen is mounted in the lid of the transportation case and displays all sources and output signals through a 10 signal multiviewer.
A fibre interface developed by Studiotech enables coding and decoding for the audio and video signals and the optical signals. The single mode fibre connectors are interfaced via connectors and cables going to and from the cameras.
The fibre interface used to transform the SDI and intercom signals into optical signals and vice versa is one of the dedicated elements in the concept of the studio system.
Each junction box of the camera system has a control panel managing the monitoring signal switching and the intercom PTT. There are five connectors for DC supply, Tally, intercom headset, input video and output video.
For each of the cameras, Studiotech supplies a manual drum with a single 100m cable. In practice, each drum remains close to the Central Control Unit and the required length of cable is unwound to the camera position. The cable includes a dual optical fibre which carries video and audio in both directions.
www.studiotech.be
(IT/JP)
Top Related Stories
Click here for the latest broadcast news stories.