Broadcast News
28/11/2014
Pod Hire: Vehicle And Kit Hire For A Compact Future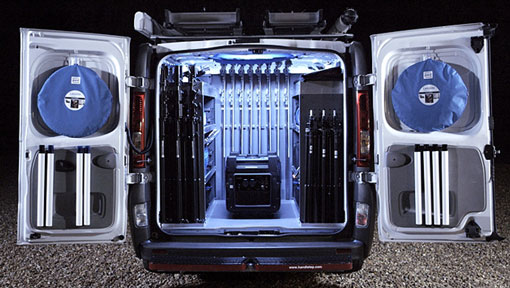 Recently launched rental company Pod Hire embraces the future with its innovative solution to location shooting. Pod Hire has designed and built an all in one film equipment vehicle containing everything needed for a professional location shoot.
Pod Hire was founded by a group of filmmakers who were frustrated at the lack of a simple rental solution that catered for smaller scale location shoots.
Christian Leake, one of the company's founders, said: "While there were larger vehicles out there such as camera vans, lighting trucks etc., there was nothing on offer for the growing number of smaller shoots. The majority of productions are now carried out with limited budgets, smaller crews and less time.
"Lots of productions end up having to hire equipment from a number of different suppliers, including a van, picking all that equipment up and dropping it off after the shoot has wrapped. They also have to pay for insurance to drive the van, worry about petrol, as well as the problem of overnight storage for the equipment. This process is highly convoluted, drains time and money and most likely leaves you with a disorganised van during filming, as the one you've hired is not purpose built."
The solution to this problem, as conceived by Pod Hire, is so simple and effective that it's almost surprising it hasn't already been done. Everything you need for your location shoot, hired out in one specially designed van.
Christian added: "There has been a clear shift. In the past you needed a helicopter to get grand aerial shots, now a drone will achieve it. Likewise, camera sensors have become incredibly sensitive. Where you would need a 5kw light 10 years ago, now a 1kw light will do the job. With equipment sure to get more sophisticated and more compact, Pod Hire is well placed to be the right rental solution for location shooting of the future. What we wanted to do is create an all in one vehicle that was relevant for modern shoots. We took the key benefits and features of the larger film equipment vehicles and worked them into a smaller, cost effective vehicle."
"At the same time, we aimed to simplify the rental process to go hand in hand with this vehicle. We started with a fresh slate and built a rental solution that worked for us as practising filmmakers who found ourselves constantly under pressure and knew that there was a solution out there to make our lives simpler, and allow us to achieve more."
What the company has ended up with is a solution that effectively takes care of a large part of the production process. The Pod Hire team has been highly thoughtful of both the crew and producers requirements and tried to think of everything, so users don't have to.
The van is cleverly decked out with shelves and racking, so there is a place for everything, meaning that things are easy to access and allowing quick set ups and location moves. Also, because it has been cleverly laid out, the solution can transport a lot of equipment. It has mains electricity throughout for charging batteries on the go and incorporates a DIT station in the front seat for modern work flows. There are Sony quick release plates throughout for quickly changing camera set ups.
Pod Hire's solution is very customisable, with a wide range of equipment to choose from. With Pod Hire you also get the benefit of having loads of kit that comes with the van as a standard, from spares and backups that are carried in a backup kit to ladders, apple boxes, radios, and hi-vis jackets. You don't know when you'll need this stuff, and it's often forgotten, but vitally important.
Not only is the interior van neatly packed to its full potential, but the van itself is efficient and cost effective. It's small, discreet, easy to drive down narrow streets and park in tight spaces.
www.podhire.com
(CD/JP)
More Broadcast Kit hire Stories