Broadcast News
13/11/2014
On The Edge, On The Fly, On Demand...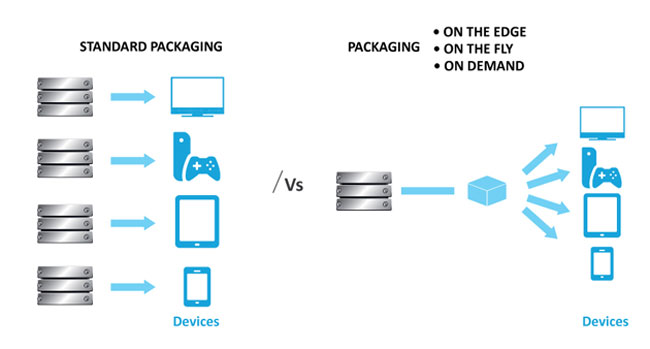 Damien Lucas, CTO, Anevia, explains the three-O approach to multiscreen video delivery. A future-proof system that also future-proofs content.
Video today accounts for 50% of data currently carried over the internet. This is a huge proportion and continues to increase with every passing year. Analysts forecast that video traffic levels will rise to between 80 and 90% of the total between now and 2024.
The main reason for the rapid expansion in video traffic over the internet is the similarly expanding use of multiscreen video devices: tablet computers, mobile phones, laptops, game consoles and IP-compatible television. These require support from an almost incredible list of formats such as HLS, MPEG-DASH, Adobe HDS and Microsoft Smooth Streaming.
This combination of viewing devices and data delivery formats has also formed the basis for a range of new video services. These include catchup, replay, start-over, pause-TV and the ability to give viewers the facilities normally associated with personal video recorders but without needing their own storage hardware.
Larger displays, higher resolution standards
Another increasing figure is the size and resolution of video displays fueled by ongoing advances in manufacturing techniques. IP-compatible home television receivers with 50 inch screens are now available at retail prices of under £400. 60 inch receivers are currently in the £900 upwards region but the trend continues towards ever larger high definition screens becoming affordable. Added to this are the imminent prospect of 4K plus the potential of true home widescreen; as demonstrated at IBC this year by Samsung with a 105 inch prototype 21:9 display.
A further consideration in internet-based video traffic management is the use of adaptive bit-rate streaming. This works by detecting a user's bandwidth and CPU capacity in real time and maximising the quality of the video stream within the available signal transport parameters. Digital rights management also enters the game, making the task of content delivery even more complex.
Taking into account all rights-management protocols, data formats, devices, networks, operating systems and bitrates, we end up with about 150 different streams needing to be carried in the backbone of the network. This is very different from the set top box period of a few years ago. Broadcasting, if it can be considered a game, is now played with much more elaborate rules than in the days of terrestrial, satellite and coaxial cable delivery.
All this is impacting on the global internet infrastructure, which has to carry the streams, resulting in the need for higher bandwidth consumption and bigger storage facilities. This can end up with 25 gigabit per second requirements in the core networks which in turn imposes high capital expenditure. A large proportion of this core network is needed only for multiscreen.
On the edge, On the fly, On demand
Anevia has long experience of packaging video for transport over baseband as well as IP networks. The modern trend is to have the packaging process performed as close as possible to each viewer. Packaging should be On the edge, On the fly, On demand, the three-O approach to multiscreen video delivery.
On the edge: Streams are formatted for different devices right at the edge of the network before making the final leg of the journey to the viewer.
On demand: Content is packaged only when actually requested. Why process a stream if its not needed?
On the fly: The ability to package when the stream is required
The aim is to reduce bandwith consumption by a factor of 10.
Additional services
Multiscreen television services are also increasingly ambitious in the breadth of options they offer. Catchup, replay, startover and viewer-specific programme storage are all becoming highly popular.
Each service provider requires the flexibity to be able to store content, process it and make it available to individual subscribers. To achieve this, that content needs to stored and packaged for each device.
The multiscreen online personal video recorder is today a perfectly practical alternative to the traditional in-your-home PVR with integral hard disk drive. But providing this kind of service requires huge storage facilities. The idea is to store one pivot format and package it on demand in order to reduce the storage overhead.
Recording, like packaging, should also be operated at the edge of the network. If performed efficiently, this effectively halves the bandwidth that would otherwise be required of the content delivery network.
A future-proof system
Many new video formats and viewing devices are likely to appear on the market in the coming decade, including various kinds of wearable display capable of doing full justice to 4K (and further into the future maybe 8K) without requiring display screens higher than the ceiling of the average domestic living room.
With a modern multiscreen approach to content delivery, a simple software update allows a service to be reconfigured to match any required standard. In each case, content packaging will be performed to match a specific viewer's request, on demand and on the edge.
For future-proof content
A crucial aspect of this technology is that content itself also becomes future-proof, stored as a pivot format for conversion to any required viewing standard.
Read the article in
BFV online
.
(IT/CD)
Top Related Stories
Click here for the latest broadcast news stories.