Broadcast News
17/10/2014
SMPTE's Post-IBC Report...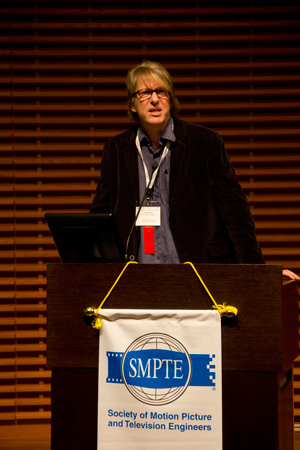 At this year's IBC show in Amsterdam, over 50 SMPTE members were speakers during technical sessions, and more than 107 SMPTE sustaining members exhibited products and technologies, the organisation has reported.
The technical sessions featuring SMPTE members launched with a session on audience tracking and measurement, with Coalition for Innovative Media Measurement (CIMM) Managing Director Jane Clarke announcing that CIMM and SMPTE would begin drafting an open standard for binding identifiers to content.
SMPTE speakers including Hollywood Region Governor Clyde Smith, Fellows Lawrence Kaplan and Phil Tudor and John Footen all took part in a session focusing on complete IP-based production. Fellow Mark Schubin joined Robin Boldon and Peter Wilson to explore event cinema.
Richard Welsh, governor for the Europe, the Middle East, Africa and Central and South America region, and Standards Director, Howard Lukk (pictured), put on a session on tri-focal camera systems featuring Johannes Steurer of ARRI. Finance Vice President Matthew Goldman presented on High-Efficiency Video Coding (HEVC).
The 'Go With UHD-1, or Wait for UHD-2?' session produced by SMPTE featured former Standards Vice President Hans Hoffmann of the European Broadcasting Union (EBU), Standards Vice President Alan Lambshead, U.K. Section Chair Chris Johns, and Chris Fetner, Andy Quested, and Jim Helman.
Speakers discussed strategies for content creation and delivery using traditional and IP technologies and subsequently discussed standards and roadmaps for the two phases of UHDTV. Mr Fetner, who is director of global content partners operations at Netflix and the opening keynote speaker at the upcoming SMPTE 2014 Annual Technical Conference & Exhibition (SMPTE 2014), announced that the SMPTE IMF standard is being adopted by Netflix as the format for creating content deliverables for its subscribers.
Focus on cinema included a session on virtualized movie production, co-produced by Richard Welsh, who also joined the 'EDCF Global D-Cinema Update' panel along with Angelo D'Alessio, governor for the Europe, Middle East, Africa, and Central and South America region; Fellows Jim Whittlesey and Andy Maltz; and Julian Pinn and Peter Wilson. During this session, much attention was paid to the SMPTE-DCP (Digital Cinema Package) format.
Understanding that this format provides a stable and future-proof standard for digital cinema playback, the industry is pushing for a rapid transition to SMPTE-DCP and the elimination of interim formats.
SMPTE Event Announcements at IBC2014
SMPTE provided further detail on the program for the 2014 Annual Technical Conference & Exhibition (SMPTE 2014), 21-23 Oct. in Hollywood, California, and the preceding SMPTE 2014 Symposium produced by the Hollywood Post Alliance® (HPA®) on Oct. 20.
Announcements revealed plans for an expanded high-tech exhibition hall with more than 80 exhibitors, the Student Film Showcase, and the Annual Membership Meeting. SMPTE 2014 will also feature the SMPTE 2014 Honors & Awards Ceremony. The Society's highest honors will be bestowed upon Leonardo Chiariglione and George Lucas, who will each receive an honorary SMPTE membership; John Logie Baird (1888-1946), who has been named to the SMPTE Honor Roll; and Ioan Allen, who will be given the Society's Progress Medal.
The Society confirmed details for key SMPTE and HPA events including the 9th Annual HPA Awards Show, set for November 6. The gala event returns to the Skirball Cultural Center in Los Angeles. The 2015 HPA Tech Retreat®, Feb. 9-13, 2015 in Indian Wells, California, is expected to draw industry engineering, technical, and creative talent, as well as strategic business leaders focused on technology.
The SMPTE 2015 Forum in Berlin will be produced May 7-8, 2015 in collaboration with the Fernseh- und Kinotechnische Gesellschaft (FKTG), with collaboration from the EBU's Technology and Innovation department. The Forum will examine how factors such as EU policy, net neutrality, copyright, and mining 'big data' are shaping the possibilities in the European market and redefining how the industry engages its audience. The Forum will look at how connectivity, bandwidth, and media technology improvements will impact media production and distribution across all platforms, from cinema and broadcast to mobile and interactive new media technologies.
Chris Fetner of Netflix will deliver a keynote on the supply chain impact of Internet distribution, followed by discussions on the vision of the European Commission for Internet streaming and on the EU regulatory environment.
It will also include a keynote presentation on the state of Internet entertainment in Europe and continue with sessions examining creation and distribution of entertainment content for the Web, the potential normalisation of over-the-top (OTT) services by premium content providers, the future of hybrid broadcast broadband TV (HbbTV), second screen in the home and beyond, and social media as entertainment media.
SMPTE also announced plans for the SMPTE15 Conference & Exhibition in Sydney, Australia. The 2015 iteration of SMPTE's biennial event in Australia will run July 14-17, and it will be the year's premier event in the region for suppliers, technologists, and content creators in the motion-imaging, sound, and broadcast industries.
"The IBC2014 show gave SMPTE and the Society's membership a timely opportunity to highlight important work being done in a variety of areas shaping the creation, exchange, distribution, and presentation of moving pictures," said Barbara H. Lange, Executive Director of SMPTE.
"Many of the programs and presentations at IBC2014 provide a valuable stepping stone for the sessions and discussions featured at the SMPTE 2014 Annual Technical Conference & Exhibition, which will blend educational programming with networking opportunities that draw professionals from across the industry."
www.smpte.org
(IT/JP)
Top Related Stories
Click here for the latest broadcast news stories.