Broadcast News
16/10/2014
DPA Mics Supply Dalai Lama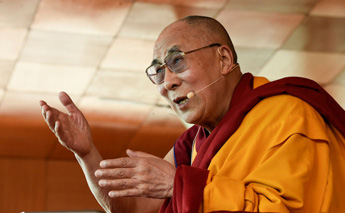 Earlier this year, the Dalai Lama hosted Kalachakra, a religious event that takes place at various locations around the world.
This year's solution was DPA Microphones' d:fine™ Dual-Ear Cardioid Headset Microphone, which was supplied from the company's US office. It has now become the preferred microphone for the Dalai Lama for all of his speaking engagements.
Reynolds Sound & Lighting Services supported this year's prayer ceremony, which was held in Ladakh, up in the Himalayas, nearly 5,000 meters above sea level. The audio team from Reynolds was also faced with properly miking someone who would be speaking for long periods of time and whom they themselves could not physically contact.
"One of the biggest challenges for us was that the Dalai Lama would speak for about five hours every day, so we needed a high quality microphone that would provide excellent gain before feedback, excellent off axis rejection and low noise floor," explains Felix Remedios, owner of Reynolds Sound & Lighting Services.
"This event focuses on His Holiness speaking to a crowd of 100 to 200 thousand people over a period of 10 to 12 days. This would be stressful on anyone's voice, and required the assurance of long term comfort and the ability to maintain critical placement.
"The DPA d:fine made it possible for us to ensure that his voice was loud and clear, and that all of the attendees could hear every word he spoke."
The Kalachakra 2014 event was held in a field equivalent to the length of four football fields, with the audience almost a kilometer away from the stage.
"We had to be really careful to ensure that his voice was heard across the whole venue," explains Remedios. "In addition to needing perfect reliability, given only one mic for a large audience, there was a high level of stage monitoring requirements for the surrounding Monks.
"I had contacted my friend and colleague Ron [Lorman] in New York, and explained that I was unsure that my previous mics would have the amount of gain that I needed. We additionally discussed the unique monitor needs for this event, as it was mandatory that the source element provided a flat response with substantial rear rejection.
"Ron recommended the d:fine products and he put me in touch with the company during a visit to the US. DPA Inc. supplied me with four mics to try out, which I brought back to India. My team was extremely happy with the quality."
Once the mics traveled up into the Himalayas, Reynolds' audio team, led by Sound Engineer Suresh J, were able to put them to the test for the first time.
"We chose to use the cardioid version of the mic for the Kalachakra," adds Remedios. "We had never used DPA mics before, but one of the first things we noticed was that there was no coloration in the signal. His Holiness' voice sounded extremely natural and transparent, and we were able to get the gain levels we wanted.
"The DPA d:fine is certainly a big quantum leap from what we are used to, both in signal levels from the mic and overall quality of the design."
www.dpamicrophones.com
(IT/JP)
Top Related Stories
Click here for the latest broadcast news stories.