Broadcast News
12/11/2013
Podboffin Selects DPA Mics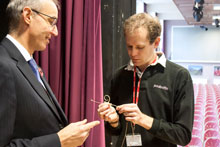 Matthew Talks, founder of UK-based educational equipment specialists Podboffin, has recently been discussing how DPA's versatile d:fine™ Headset Microphones are selected by the company due to their tough endurance qualities, even in the hands of kids.
"Usually, radio mics in schools have a short lifespan due to cables breaking," Mr Talks says.
"However, I have yet to use the spare DPA mics that I bought recently because the first set I acquired are still going strong. Even if the cable were to break, the modular construction of DPA's d:fine Headset Microphones means I can replace just the cable at a fraction of the cost of the initial outlay."
Established in 2010, Podboffin provides recording, sound installation and live production services to schools and offers advice on choosing the right audio equipment, setting it up and operating it.
The company has invested in a dozen omnidirectional single-ear DPA d:fine Headset Microphones, supplied by DPA's UK distributor Sound Network.
"I was familiar with DPA microphones having previously sub-hired d:fine units, so I decided to purchase my own," Talks says.
"In schools, the number one requirement is always for radio mics because the biggest sound problem school productions have is hearing students singing over a live band. The d:fine Headset Microphones completely solve this because I can get the capsule in really close to the singer with no plosive issues and with crystal clear sound."
Mr Talks continued: "However, once schools hear the difference that pro mics make when compared to budget mics - and see how little effort is required to get superb results - they never go back. I have yet to hire out d:fines and not get repeat business."
"DPA's popular d:fine Headset Microphones are specifically designed for actors, public speakers, broadcast hosts, musicians and singers who want a lightweight, easy to wear headset microphone that leave them free to move around without compromising vocal quality," a statement from DPA said.
"With their impressive gain before feedback and very stable construction, these unobtrusive microphones provide a discreet solution that can hardly be seen on the face."
www.dpamicrophones.com
(IT/JP)
Top Related Stories
Click here for the latest broadcast news stories.