Broadcast News
15/10/2014
Codex Recruits New Head Of Technical Marketing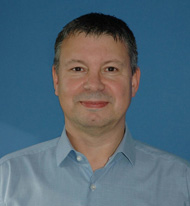 Codex has recruited Jurgen Kantenwein as its new head of technical marketing. Herr Kantenwein brings over twenty years of experience in digital film workflow to Codex and will take a lead role in developing and marketing the company's current and next-generation products for motion picture and TV production and post.
Herr Kantenwein was a founder, CTO and director of The Posthouse AG in Hamburg and The Posthouse Ltd in Wellington, New Zealand, from 1999 to 2003. Prior to this he consulted as a systems integrator to houses in Germany and London, including Das Werk, Optical Art, Cinemedia and VTR Group (now Prime Focus).
Herr Kantenwein joins Codex after working for a decade as a technical consultant on 2D and 3D stereo digital film, DI and post production system design and installations for facilities across Europe and Asia – including Molinare in London, Focus Fox Studios in Budapest, Hamburg Media School, Elektrofilm in Berlin, Deutsche Telecom T-Online in Frankfurt, plus Filmlab, Century Communications and Pixion in India.
"Jurgen has a remarkable depth and breadth of data-based workflow knowledge, accumulated over many years working with leading companies around the world," said Sarah Priestnall, VP of market development at Codex. "His experience and insight into the evolving digital media landscape is invaluable for Codex as the company puts increased momentum into its existing and future product strategies that balance the artistic needs of creative filmmakers with the latest advances in technology."
"Smart system design and supporting the integration of new, innovative technologies into high-end media and entertainment companies are great fascinations to me," Herr Kantenwein said.
"So I jumped at the chance to work with the remarkable brand that is Codex. In this new technical marketing role, it will be my task to focus on providing new and improved workflow solutions that meet the needs of customers in a dynamic marketplace – today and tomorrow."
www.codexdigital.com
(IT/JP)
Top Related Stories
Click here for the latest broadcast news stories.