Broadcast News
16/09/2014
Codex Ships Small Camera With A Big Workflow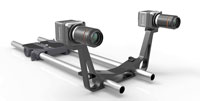 Codex is shipping Codex Action Cam, the small camera with a big workflow.
Having taken the market by storm with its NAB 2014 debut, the point-shoot-post system is now being used on feature and advertising productions in Europe and the US, as well as being modified and adapted by customers into specialist 2D and 3D stereo shooting packages. Codex Action Cam is one of the highlights at the Codex stand (Hall 11.C71) at IBC 2014, 12-16 September, Amsterdam.
Codex Action Cam can be deployed as an Action | POV camera system, as a companion camera when regular packages are too large for the situation or location, or as a Witness Cam to capture depth information for VFX compositing or 3D stereoscopic conversion. It comprises a tiny HD camera head and a Codex Camera Control Recorder that delivers full remote control of the camera, plus the proven workflow of the industry-standard Codex.
Among the first US customers for Codex Action Cam is Radiant Images in Los Angeles, which provides innovative digital cinema solutions, high-end cameras and equipment to the film and entertainment industry worldwide. The company's in-house engineering team has developed a new range of camera rigs with Codex Action Cam – fitting Codex Action Cam heads with a wide variety of miniature prime and zoom lenses, housing Codex Action Cam with a helmet to create the Freedom POV Camera, and different easy-carrying systems for the Camera Control Recorder, battery packs and lens/focal control systems. Radiant Images recently provided a Codex Action Cam POV package on the commercial for Sledgehammer Games/Activision's Call Of Duty: Advanced Warfare, releasing November 2014, and is also taking orders for other Codex Action Cam packages on new commercials and feature productions.
Moving Picture Company creative director, Paul O'Shea, who supervised the visual effects on Call Of Duty: Advanced Warfare, said: "Codex Action Cam allows us to work in the tightest situations, and capture exciting POV action, without compromising the quality that we need for creating visual effects. The images from Codex Action Cam can be blended seamlessly with those from other digital cameras too. Indeed, on Call Of Duty: Advanced Warfare the camera quality was so good we could use it as a second unit camera to shoot bluescreen plates."
In Europe, cinematographer Stijn Van Der Veken SBC ASC adapted the Codex Action Cam package to shoot nighttime stunt sequences on Alles Voor Lena, a sci-fi feature scheduled for 2015 release, directed by Lukas Bossuyt, through Caviar Films in Brussels, Belgium. The Codex Action Cam head was mounted on a helmet, skydiver style, rated at 400 ASA, using a C-Mount Kowa 5.5mm lens. The Camera Control Recorder, plus a Teradek wireless video transmitter, were fitted inside a small backpack. The RAW camera footage was transferred via Codex Capture Drives to a Mac laptop and converted to 10-bit DPX using the Codex Virtual File System.
German 3D stereo specialist manufacturer, Stereotec, has incorporated Codex Action Cam into its new ultra-compact Nano Rig, a mirror/beam-splitter rig that can be used for native stereoscopic acquisition either handheld, on Steadicam and other stabilising systems, with traditional camera fixtures such as cranes and dollies, as well as for underwater cinematography. Stereotec has also developed the Side-By-Side Mini Rig incorporating Codex Action Cam. Stereotec's Nano Rig will be shown on the Codex stand at IBC 2014.
www.codexdigital.com
(CD)
Top Related Stories
Click here for the latest broadcast news stories.