Broadcast News
05/06/2014
Codex Showcases At Cine Gear 2014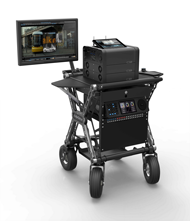 Codex is highlighting the integration of Codex Vault and other Codex-developed recording systems, from partners including ARRI, Dolby, FilmLight and Ncam, to create streamlined capture-to-post workflows for motion pictures, at the Codex booth (#47) during this year's Cine Gear 2014.
Codex will showcase an end-to-end workflow based around the ARRI Alexa XT camera, recording ARRIRAW to Codex Capture Drives, as well as showing how Codex workflows, powered by Codex Vault, can support the latest 4K cameras from Sony, RED and Canon.
Vault is a modular system that provides transfers to internal storage, along with metadata management and archiving to LTO tape. The addition of Codex Review enables the playback of HD, 2K or 4K material to a 4K monitor for review, QC and basic colour grading. GPU-based processing facilitates transcoding to H.264, Apple ProRes 4444, Avid DNxHD 444 and uncompressed RGB formats.
Codex will also be showing Codex Action CAM, which comprises a tiny camera head and a Codex Camera Control Recorder that delivers full remote control of the camera, plus the proven workflow of the industry-standard Codex.
Codex is also hosting the latest version of Ncam's camera tracking system. Ncam features a multi-sensor bar that mounts on the camera and provides real-time data to the Ncam tracking server. Ncam provides camera position and rotation information as well as iris, focal length and focus data, via protocols compatible with any VR/AR graphics system, supported by Codex recording systems.
Also on show are the results of the collaboration between Codex and FilmLight, which link Codex Vault to the Baselight grading system. This allows grading decisions, made on-set with the Baselight FLIP real-time image processor, to be viewed and rendered into dailies deliverables on Vault.
There will also be a technology demo of the Dolby Maui monitor, the latest Grade 1 reference monitor that supports EDR (Extended Dynamic Range) workflows for Dolby Vision. The Maui will be integrated with the ARRI Alexa XT, FilmLight FLIP and Codex Vault.
"We continue to support the most widely used cameras in motion picture, commercials and television production, plus a wide range of other vital systems for camera tracking, monitoring and DI post production – all with the reliable, streamlined workflows that customers expect from Codex," said Sarah Priestnall, VP Market Development for Codex. "As data rates and storage needs continue to rise, and as metadata management becomes ever more important, so the need for secure workflows becomes more and more acute, and Codex will continue to provide customers with simplified, robust solutions."
Codex Vault has been used on many projects around the world including Captain America: The Winter Soldier, Hunger Games; Mockingjay Parts 1 & 2, Fast and Furious 7, X-Men: Days Of Future Past and The Fault In Our Stars.
www.codexdigital.com
(IT/JP)
Top Related Stories
Click here for the latest broadcast news stories.