Broadcast News
14/10/2014
Flexing The 4K Muscles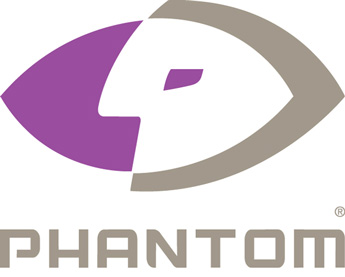 The IBC trade show presented a chance for Vision Research to show off their latest offerings in the TV & Motion Picture industry. The new Phantom Flex4K, and well established Flex, compact Miro LC320s and v642 for sports broadcast were prominently featured throughout the show.
The Flex4K digital cinema camera started shipping earlier this year and has already been used in several productions in 2014. The unique camera system was designed to support various production styles and workflows with a full featured on-camera menu and excellent performance from 24 – 1000 frames-per-second (fps). Accessory power outputs and optional battery backs exist to make the camera a completely self-contained system that can be used as easily remotely as it can in the studio.
At IBC, Vision Research screened plenty of breathtaking 4K footage on a 65" 4K monitor, including footage recently shot with a monochrome version of the Flex4K.
Several accessories were shown to complement the Flex4K - including a prototype 12" full 4K on-camera monitor from Astro, new monitors from Transvideo, a new Angenieux Optimo-Style lens complete with a full set of Vocas accessories. A new Canon EF mount, battery backs and custom remote controls were also shown to demonstrate the camera's flexibility.
The Flex4K comes with a standard PL mount, with different options available including the new Canon EF lens mount – allowing for remote control of focus and aperture. The lens mounts are easily field replaceable between PL, Nikon F and the new Canon EF mount.
A V-Lock battery back, manufactured by Blueshape is now available – making the camera compatible with high-capacity 12V V-Lock batteries. The Blueshape 270HD battery has been proven to run the camera for over two hours. In addition, there is an Anton Bauer Gold Mount and a Hawk-Woods mount for 26V Reel-power batteries available. These mounts are sold as accessories and are also field replaceable.
When it comes to controlling the camera, there are multiple options. The most common camera settings are available right on the camera body and Vision Research PCC software is available for controlling the camera via Ethernet. In addition, there are multiple control units commercially available, including the Vision Research RCU, the Abel Cine PCU (Phantom Control Unit) and the SpectR controller from Sublab.
Vision Research featured the PCU and SpectR at IBC – these were both designed by experienced Phantom camera operators and offer unique setups that come in handy on set. All available controllers include a system for wireless operation.
Mark Roberts Motion Control and Camerobot showcased Phantom cameras on their high speed motion control rigs – providing exciting live demonstrations for visitors.
The off-camera workflow was demonstrated by Glue Tools, who provide mac solutions for working with Phantom cameras and Cine raw files.
Phantom Cine raw files are more widely accepted than ever, and Phantom file support was a big topic for industry standard applications such as Blackmagic Resolve and Adobe Premiere.
Perhaps the most notable new offerings in the Phantom product line have to do with integration into sports broadcast systems. Phantom Flex4K and v642 camera models were featured at the iMovix booth, showing the latest advances and footage from their integrated broadcast systems. The iMovix X10, X10 UHD and Spine systems provide unique functionality which enable the special features of Phantom high speed cameras.
Recent updates to the Flex4K includes features geared toward sports broadcast applications, such as an ENG Lens port, 24-axis multi matrix for color control and multi-channel SDI outputs supporting simultaneous live and replay functionality. This simultaneous live capture and replay functionality is an important feature for super slow-motion replays, allowing the operator to keep an eye on the action and never miss a shot while the camera plays back from a separate memory partition.
The camera's sharpness, colour matching and low noise performance make the Flex4K an exceptional camera for both live action and super slow-motion replays. The camera can run in full 4K mode, compatible with pan & scan systems, or in a windowed 1080p mode, allowing for 1080p capture under a B4 mount. Vision Research works with integrators that specialise in super slow-mo broadcast, who are now offering complete 4K systems built around the Flex4K that captures and plays back super slow motion at 4K or 1080p.
Read the article in BFV
online
.
(IT/JP)
Top Related Stories
Click here for the latest broadcast news stories.