Broadcast News
10/10/2014
DPA Selected For Guardians Of The Galaxy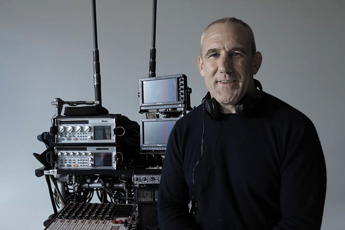 DPA lavalier mics were used by Oscar-winning production sound mixer Simon Hayes to record Marvel's film adaptation of Guardians of the Galaxy, directed by James Gunn.
Hayes first used DPA mics as Production Sound Mixer for the film adaptation of Mamma Mia in 2008 and has turned to DPA d:screet 4061 and 4071 miniature mics on every film he's worked on since then.
DPA miniatures were chosen for Guardians of the Galaxy so that he could capture original dialogue, right at the point of shooting.
"It was clear from the first meeting with James Gunn that he wanted to capture original performances, which of course isn't always easy when you're talking about large budget special effects and action-driven visual effects type movies," Hayes says.
"We knew that we were going to be shooting three or four cameras at all times so the DPAs took precedence over the booms on a lot of scenes. This meant that, in the final mix, at least 75% of the dialogue that made its way into the movie was recorded on DPA [d:screet] 4071s and DPA [d:screet] 4061s."
Leading man Chris Pratt was fitted with the DPA d:screet 4061 omnidirectional mic. "We felt that the 4061 added a little something extra in the bass region for his voice, which was quite exciting," Hayes continues. "All of the other characters used 4071s on their chest rigs and if we were rigging microphones in their hair or in their helmets, we used 4061s to increase the bass."
He added: "Mixed in with the huge space sound-effects that the sound design team built for us, we really wanted close-up dry dialogue so that we could push the music and the effects harder, and that's what the DPA mics helped us to do," says Hayes, who collaborated closely with Alexandra Byrne (costume designer) and Dan Grace (costume supervisor) to design the mic placements used within the actors' costumes.
"We had some really interesting rigs. For instance, Lee Pace, who plays Ronan, was wearing a helmet for his whole performance and we actually placed two 4061 mics into the helmet because the microphones were creating a tiny bulge. We wanted to have the bulge uniform, so we put one above each eyebrow, which not only gave a uniform look to the helmet, but it also gave us the opportunity to have two tracks running on Lee Pace's dialogue."
With a run of over 18 films on which he's used DPA microphones, Hayes concludes: "In the marketplace today there aren't any lavalier mics that sound as natural and as transparent as DPAs. I feel that when I'm using a DPA microphone, I'm hearing actors through their performance rather than the microphone factoring it."
www.dpamicrophones.com
(IT/JP)
Top Related Stories
Click here for the latest broadcast news stories.