Broadcast News
23/09/2014
Cinedeck ZX Launched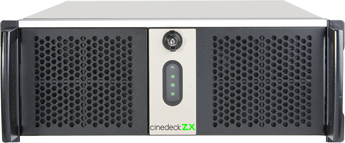 Cinedeck has launched Cinedeck ZX, a modular 4K/UHDTV-1/HD/SD platform that allows users to custom-build fast camera-to-post workflows for digital cinema and broadcast applications.
Cinedeck ZX comes in three hardware options to which a range of Cinedeck-developed plug-in workflow packages can be added. Users select the plug-in workflow packages needed to meet their particular 4K, UHDTV-1, HD and SD workflow requirements.
The rack-mount Cinedeck ZX is based on the technology footprint of Cinedeck's flagship MX system.
The base level Cinedeck ZX20 provides two channels of 2K, HD or SD, with optional 4K playback. The mid-level Cinedeck ZX40 provides more processing power to deliver four channels of 2K, HD or SD, and, when fully-loaded with plug-in packages, is equivalent to the 4K-capable Cinedeck MX. The turbo-level Cinedeck ZX45 adds more processing power to support 4K and UHDTV-1 at 60P and four channels of 2K, HD or SD at 60P, including visually lossless JPEG2000.
Workflow packages can be added to each of the three Cinedeck ZX models, supporting the custom-build of a workflow system. Plug-in packages cover a range of flexible options including formats, networking and connectivity, codecs and wrappers, deck and telecine control – all of which can be purchased separately as required.
All three Cinedeck ZX systems can be fitted with the customer's choice of either 10Gb Ethernet or 8Gb Fiber networking, or custom adapters for high-bandwidth local storage. Customers can also choose from a selection of codec and wrapper packages to support many media environments, including editorial platforms from Avid, Apple and Adobe. Each codec and wrapper package includes all supported codecs available from Cinedeck's comprehensive range within the specified wrapper. A range of 4K/UHDTV-1 recording and playback options are also available.
"With the powerful Cinedeck ZX you really do get your workflow, your way," said Charles D'Autremont, founder and CEO of Cinedeck. "This exciting, versatile and cost-advantageous approach means you build what you need, and only pay for that functionality, while still having the option to add a wide range of features and functions should your workflow change."
www.cinedeck.com
(IT/CD)
Top Related Stories
Click here for the latest broadcast news stories.