Broadcast News
10/09/2014
ITN Selects AXON For Graphic Control Solution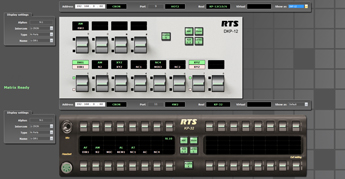 ITN has selected AXON to provide a graphical control solution to offer its sound supervisors a touch screen interface to monitor and configure the large intercom system at its Gray's Inn Road studios.
The ITN communications system comprises of 4 x matrixes with around 200 ports per matrix which daily provides the worldwide communications for the ITV, Channel 4 and CH5 News.
The task was to create touch screen panels to be displayed on the existing audio consoles PC screens that would simplify control of the system and allow complex set ups, such as an election configuration, to be automated and simply and quickly executed at the push of a button.
AXON proposed the use of its Cerebrum Monitoring and Control system to provide the customisable screens for the sound operators. The Cerebrum software can monitor and control any type of third party equipment as well as AXON's own products such as the Synapse range of modular processing cards. Using the designer programme that comes with Cerebrum users can create their own control or monitoring system views, customising the look and feel of the information they see to match their own workflow or house style.
ITN staff provided a list of tasks they wished to have monitored and controlled, asking AXON to create screen designs that would offer the sound supervisors a clearer view of the system.
AXON showed the first screens to the ITN crews to see if they met the operational requirements. A few additions and tweaks were made based on feedback from the sound crew with some further changes from AXON's Product Manager, Jelle Wesseling.
The package can configure any aspect of the intercom system and show its status at a glance. It also be used with any intercom system as it is not manufacturer specific. Adrian Richmond, AXON's Director of Sales in the UK, said: "The concept was to produce an intercom tool kit within the Cerebrum family that could be used to control any manufacturers Intercom. It is important for a control system like Cerebrum to be manufacturer agnostic so the aim was to create a set of screens that could be used as a basis to configure and monitor any system. Additionally using internationally accepted Intercom terms and signalling conventions make the interface highly intuitive."
ITN broadcast support senior team leader Steve Luck: "We are impressed by the speed with which AXON developed this software for us and by creating a tool specifically designed for ITN's needs Cerebrum has made it much easier for the sound team to visualize and control the communications system."
www.AXON.tv
(IT/CD)
Top Related Stories
Click here for the latest broadcast news stories.