Broadcast News
02/09/2014
EVS To Power IBC TV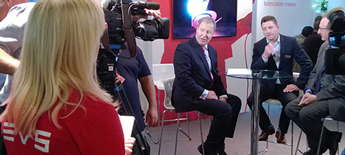 EVS is to provide end-to-end news solutions for IBC TV at this year's show, as part of the new round-the-clock live operations that will replace the usual daily updates.
Designed to enable IBC TV's 'content everywhere' vision for IBC2014, the workflow allows 24/7 online news delivery, with content accessible from any web-connected device. Visitors will be able to enjoy programming comprising live streaming, highlight packages and live distribution of HD signals to multiple screens within the RAI, as well as live coverage of conferences and exclusive live interviews.
"We've been collaborating with EVS for six years now and fully trusted that they could deliver our brand new offering, which focuses on more live content, including distribution to attendees smartphones, tablets and other devices," said Sue Robinson, producer, IBC TV. "EVS is a trusted partner in this process, equally committed to providing a more enhanced live offering with ease, speed and reliability."
EVS's new XStore Production shared storage platform is central to the IBC workflow, giving multiple editors instant access to all content. XS media servers will be used for ingest and playout of all news feeds, including live studio interviews, as well as playout to all digital screens.
Multiple ENG crews will be onhand to upload content shot on Sony XDCAMs using EVS Xedio Dispatcher for availability on both the XS server and XStore for editing with Adobe Premiere Pro CC, programme insertion and playout.
The system encompasses EVS solutions including:
IPDirector for Live Production Asset Management (Live PAM)
providing control of ingest feeds, content management and third-party exchange
XStore Production
new central shared storage platform for live/near-live storage, allowing instant content access
Xedio CleanEdit
for rough-cut editing and news assembly
Xsquare
orchestration and transcoding tool
IPLink for Adobe
plugin will give editors access to all media in XStore shared storage for final editing in Adobe Premiere Pro CC.
"Our deployment for IBC TV this year is an excellent illustration of EVS' integrated news workflow and the versatility it can provide," said Nicolas Bourdon, senior vice president marketing, EVS. "The convergence of broadcast and broadband distribution is on everyone's mind right now. There's no better venue to put these multimedia tools and techniques into practice than IBC."
www.evs.com
(IT/JP)
Top Related Stories
Click here for the latest broadcast news stories.