Broadcast News
15/08/2014
Fibre Optics In The Broadcast Industry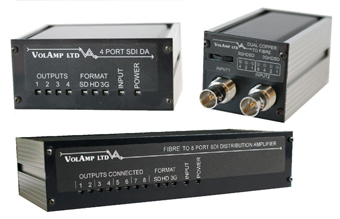 Over the last few decades there has been a revolution in the transmission of information with the development of fibre optical technology, writes B. McCabe of Volamp Ltd.
Early adopters of this technology were military and government institutions where the immunity to electromagnetic interference, security from eavesdropping, ability to span long distance and low cable weight were highly attractive.
In the early days, components were non-standard, with manufacturers of fibre optic equipment designing their own transmitters and receivers. As one of these early manufacturers, Volamp produced high performance fibre line drivers which became a de-factor standard around 1985 and are still manufactured today. Ethernet was in its infancy so fibre with its wide bandwidth was often used to time division multiplex RS 232/422. Fibre was occasionally used for analogue video links but this was often restricted by the variation in fibre types.
With the increasing use of fibre in the data industry, manufacturers standardised on the small footprint pluggable (SFP) fibre transceiver device which specifies the dimensional and electrical interface of the device.
However, these data SFPs are not suitable for broadcast video applications due to the scrambling coding system used in SDI (Serial Digital Interface) which is the general format for broadcast video links. As a result, special Video SFPs have been developed for the transmission of digital video with the same form factor and pin-out (usually). Many SFPs also have a serial interface for monitoring input light levels and other basic functions, a feature which is used in several Volamp products.
For example, the Volamp V3G-8FRDA fibre to Copper distribution amplifier uses this feature to drive an LED display which can give an indication of the connected channels, the light levels and transmission standard (SD/HD/3G).
Further development of SFPs has resulted in dual and bidirectional (BIDI) devices which can also support multiple wavelengths such as 1310nm or 1550 nm. The use of WDM (wavelength division multiplexing) techniques also allows the transmission of multiple channels down single fibres. Using CWDM will introduce losses but light output from SFPs are usually sufficient to overcome this.
All these techniques are used in Volamp Camlinx camera back systems such as the Camlinx-lite 4K. In this system normal camera functions are transmitted/received over a single fibre using a bidirectional (BIDI) SFP while the four 3G video channels that make up the 4K signal are sent down the other fibre using video CWDM SFPs. In future it will be possible to use a single 12G SFP .
SFPs are designed to accept a variety of fibre connectors (e.g. LC, SC). However for applications such as camera back fibre optic systems where system components are mobile, a more rugged connector system is required. Manufacturers such as Neutrik or Lemo offer ruggedised connectors which accept fibres from the SFPs and have features such as shutters that protect fibres when the connector is disconnected.
As demand for higher frequencies and more bandwidth increases with the arrival of 4K video, the use of fibre is spreading in the broadcast industry. Some of the camera manufacturers are now offering fibre on their cameras (at significant cost). The beauty of the Camlinx system is that it can be attached to any camera, so if a camera develops a problem, the Camlinx can be mounted quickly on a replacement, which may even be from a different manufacturer. The Camlinx system allows the use of cheaper cameras for fibre transmission and prevents the user being locked into cameras from one manufacturer.
The article is also available to read in BFV
online
.
(IT/CD)
Top Related Stories
Click here for the latest broadcast news stories.