Broadcast News
20/06/2014
Anton/Bauer Keeps 'The Americans' On The Move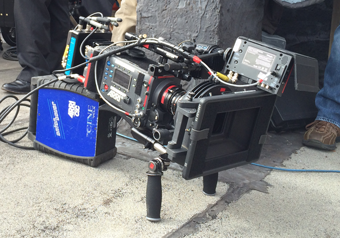 The camera crew behind the hit series The Americans chose Anton/Bauer to support the production throughout the second season. Cinematographer Richard Rutkowski and camera assistant Brendan K. Russell relied exclusively on Anton/Bauer DIONIC HC and CINE VCLX batteries to power the series.
"We can put the DIONIC battery on the back of our wireless transmitter and sit the transmitter on the back of the Alexa, making us a self-contained shooting unit," says Rutkowski. "The guys hook up to a CINE VCLX between takes, then they pull the cable out, and we run off the DIONICs. It gives me the ability to walk around utterly free while broadcasting full HD, and that's pretty remarkable."
"We're able to swap back and forth between the two batteries fairly easily without ever having to power down the camera," Russell adds. "The ability to break away and use the DIONICs alone is really beneficial. The Americans features a lot of conversations in cars, and we often find ourselves strapping a stripped down camera to a car mount – just the lens, the camera, and the DIONIC HC battery. It allows us a lot more versatility."
The video village cart can also run entirely off Anton/Bauer batteries. "In order to be quick and on the move, we'll often go with the VCLX batteries," concludes Russell. "And if our location restricts us from getting any power from electrics, we can subsist all day off the VCLX batteries."
www.antonbauer.com
(IT/CD)
Top Related Stories
Click here for the latest broadcast news stories.