Broadcast News
05/06/2014
A Viable Economic Alternative to AD...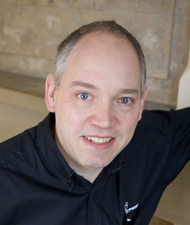 Both Spoken Subtitling and Audio Description may be candidate services that could benefit from the application of Text-To-Speech technology, says John Birch, Strategic Partnerships Manager, Screen Systems
Speech synthesis has improved dramatically in recent years, with computer generated voices that can convey emphasis and emotion, without excessive need for 'mark-up' within the text used as input. In addition, recent research indicates that users may be happy with computer generated speech for Audio Description if it leads to more provision. As provision of Audio Description is being increasingly mandated, it is suggested that Text To Speech is a viable economic alternative to using voice talents, particularly for non-premium channels.
Audio Description
Traditionally, a trained 'describer' identifies appropriate points in the audio timeline where a description is needed (and can be placed) and produces a script. This process has much in common with captioning, but, perhaps for historical reasons, is almost always performed separately. Typically, the 'describer' voices and records the descriptions, although sometimes the 'voicing' is performed by a separate 'voice talent'. The (mono) recordings of each description are used to produce a full-length audio description track, which may be 'pre-mixed' to create a separate audio track in advance, or live mixed with the original audio at play-out.
Live mixing generally uses the mono description track and a control track. This control track (sometimes termed a 'warble track' because of its sound) contains a low rate digital signal that encodes pan and fade information. This information defines how the descriptive audio should be mixed with the original audio, allowing the balance between the description and the original audio to be controlled.
Spoken Subtitles
Spoken Subtitles are currently provided by national television broadcasters in some European countries as a service to provide accessibility for the blind and partially sighted viewers.
Spoken Subtitles supplement an Audio Description service and replace the inaccessible foreign language narrative provided as text subtitles. Unlike Audio Description, Spoken Subtitles are traditionally provisioned using Text To Speech, because the textual data is already available in the form of subtitle files and adding machine 'reading' of these is not operationally challenging. It is highly unusual for Spoken Subtitles to receive any special preparatory effort (for example, to match the voice with the gender of the speaker).
It should be understood that the 'quality' requirements of Spoken Subtitles may be different to Audio Description. Spoken Subtitles can be easily provided automatically for all programmes that have translation subtitles by default. In some regions and channels this is ALL programmes. As the spoken subtitles are automatically derived from the subtitle texts, the original spoken audio (in a foreign language) may be left audible, as it carries hint information such as the mood and gender of speaker. (The typical Audio Description practise of muting the original audio would detract from the quality of the viewing experience as audible cues would then be removed).
Technical Implementation
Both Spoken Subtitles and Audio Description have a common root in a timed script file. From this timed script file, audio is created. The main difference between the two practices is the 'typical' method of audio creation, using 'voice talents' for Audio Description and using Text To Speech for Spoken Subtitles. Additionally there may be a difference in the mixing of audio tracks due to a desire to retain connected information in the original program audio for Spoken Subtitles. From a technical perspective, both Spoken Subtitles and Audio Description may be provisioned using the same Text To Speech 'engine'.
Live insertion at programme playout
Screen has developed an output driver for our Polistream subtitle and caption transmission system that acts like all other Polistream output encoders. This specialist Polistream module receives 'subtitle texts' and renders them (using a programming interface called SAPI 5) to drive a Text to Speech engine and produces audio snippets.
The module will attempt to fit the generated audio snippets into the available time by re-rendering audio that is too long (by speeding up the spoken rate). If a delay in audio snippets occurs then the module will cut and fade the generated audio snippets. 'Live' Audio Description can also be rendered using the module, but in this case, the duration is unknown ahead of time, so there is no rate modification.
The specialist module can also detect the presence of an audio filename (hidden as metadata) in the subtitle file, in which case the identified sound file is loaded instead of performing a Text To Speech operation. This allows for traditional 'voice-talent' produced Audio Description to be supported, allowing a combination of Text To Speech and 'voice-talent' produced Audio Description, or the playout of pre-recorded voiceovers or other short audio prompts.
The same technology is also available as a module for our MediaMate product, to allow offline processing for file based workflows.
The article is also available in BFV
online
(IT)
Top Related Stories
Click here for the latest broadcast news stories.