Broadcast News
28/05/2014
University Of Portsmouth Selects TriCaster For 24-Hr Broadcast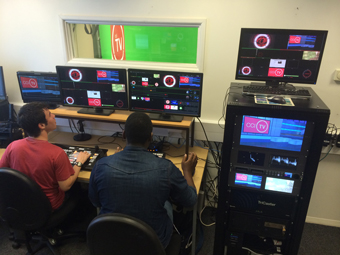 A team from the University of Portsmouth's BSc (Hons) Television and Broadcasting course is undertaking a 24-hour broadcast challenge later this week, with three NewTek TriCaster multi-camera live video production systems at the heart of the workflow.
The University's live broadcast challenge began four years ago by delivering two live hours of original programming; then the challenge increased to four hours in 2012 and six hours last year, increasing even further to 24 hours this year.
"What we are attempting is going to be very hard to pull off," said course leader Charlie Watts. "However, my students want to go into the television industry, and I think I'm partly responsible for getting major league broadcasters to look at what we are doing. This isn't some webcam pointed at the same area for hours on end - this is a live, varied, passionate, multi-camera production that looks like network television, and anyone viewing will be knocked out by what our students are creating this year."
The production is underpinned by three professional TriCaster systems to control the live and pre-recorded content and live stream to all of the campus TVs, the University website and the Portsmouth City Council Big Screen situated in Guildhall Square, Portsmouth.
Gary Bown, principal lecturer and head tutor for all outside broadcast operations at the University of Portsmouth, said: "If students want to go to the moon, we'll build the rocket, as long as they agree to control the mission. Beyond the talent of our students, a key factor for this ambitious project is reliable technology, and we're safe knowing that NewTek TriCaster is behind everything we're doing. It's the technology backbone to all of our plans, and an enormous element of our confidence that we will pull this off."
"Challenges like this provide a fantastic real-world broadcasting experience for students," said Carter Holland, chief marketing officer, NewTek, Inc. "We're proud to see TriCaster at the heart of this operation, allowing the students to produce a professional, live streaming video programme that will have the look of a major broadcast television show."
The live broadcast will commence at 20:00 on 29 May at
www.ccichannel.port.ac.uk
The team will also be encouraging donations to its chosen charities – anyone wishing to donate can visit
Just Giving
www.newtek.com
(IT)
Top Related Stories
Click here for the latest broadcast news stories.