Broadcast News
27/05/2014
HHB Supplies Refurbishments At Imagem, London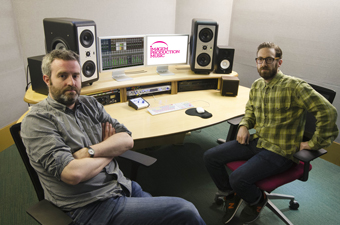 HHB Communications has supplied the audio equipment for refurbishments at Imagem Production Music's London studios, upgrading both systems to ProTools HD11 and HDX hardware with the new Apple Mac Pro.
Imagem Production Music offers a library of over 200,000 original tracks for licensing to movies, advertising campaigns, TV programming, corporate videos and more. Both studios are now equipped with Pro Tools 11 and HDX systems running on the new Apple Mac Pro and Magma's EB3T thunderbolt chassis.
HHB also supplied a variety of new hardware and software products, including Neumann microphones, Universal Audio and Neve preamps and plug-ins from Waves, Sonnox and iZotope.
The combination of Pro Tools HDX and the latest Mac Pro computers with Intel Xeon E5 processors provides Imagem with a major improvement in performance. The performance of Imagem's network storage has also been enhanced with the purchase of Studio Network Solutions SANmp storage management network software licences.
HHB Sales Manager Andrew Hingley commented: "Imagem produces over 50 albums of high-quality production music every year. Features like faster-than-real-time offline bounce provided by Pro Tools 11 and the incredibly fast processing speed of the new Mac Pro are extremely valuable timesaving solutions for this volume of work. The upgrades will afford them an enormous amount of time that can be put back into the creative process."
Imagem Producer and Studio Engineer Taz Mattar added: "It is actually ridiculous how fast our studios are with the addition of the new Pro Tools HDX systems. We ran some tests and managed to do some offline bounces at 180x real-time."
Production and Studio Manager Iain Roberton stated: "Working with HHB on the upgrades has been totally painless. We completely swapped out the old systems and were up and running with the new rigs in under two days. Whenever we buy equipment from HHB it arrives on time, it's tested so we know it will work and their technical support is fantastic."
www.hhb.co.uk
(IT/JP)
Top Related Stories
Click here for the latest broadcast news stories.