Broadcast News
16/05/2014
LiveU Deploys 200 Units For FIFA World Cup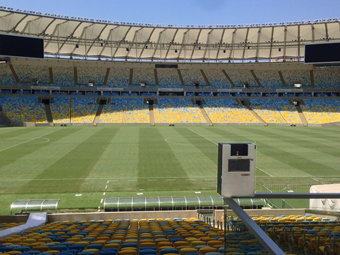 LiveU has revealed that more than 200 units are to be deployed in the 12 host cities across Brazil by media companies from over 30 countries, during this year's FIFA World Cup in Brazil. LiveU units will offer live video transmission, as well as hot spot connectivity via the new LiveU DataBridge solution, which turns any LiveU unit into a bonded cellular hotspot.
The company's support team will be on the ground in the different locations, offering onsite 24/7 support in multiple languages during the tournament. LiveU deployed over 30 units at the 2010 World Cup in South Africa and more than 150 units at the London 2012 Olympics. During the 2013 FIFA Confederations Cup in Brazil, dozens of LiveU units transmitted from numerous host cities across the country.
During the FIFA World Cup 2014™, LiveU will provide onsite support at the main venues in Brazil directly and through its local partner, UCAN Digital Transmission. LiveU will deploy its portfolio of uplink solutions including its backpack and camera-mount cellular bonding devices such as the LU500 and its signal boost Xtender external antennas.
Customers will include global sports and news networks, news agencies, local stations and online broadcasters.
TERRA, the largest Internet company in Latin America is on of the groups using LiveU technology during the World Cup. Allan Pessoa, Technology Manager with TERRA, said: "Our goal is to be very dynamic, delivering great content with solid facts. LiveU provides us with the mobility and technology to do that."
Ronen Artman, LiveU's VP Marketing, added: "The FIFA World Cup is one of the preeminent sporting events on the global calendar and 2014 is no exception. This is a tremendous opportunity for media companies – be that broadcast or online or a combination of the two – to show how dynamic they can be in what's a very competitive arena.
"LiveU technology is ideal for covering stories and sports news around the tournament, as evidenced at the 2012 London Olympics, Super Bowl, UK Premier League football and US collegiate championships. UCAN and LiveU are primed and ready to provide the ultimate in tournament support."
www.liveu.tv
(IT/JP)
Top Related Stories
Click here for the latest broadcast news stories.