Broadcast News
30/07/2018
Broadcasters Deploy FOR-A Tech During FIFA World Cup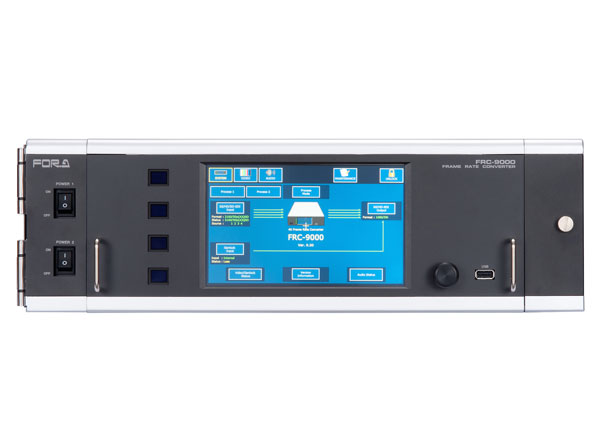 FOR-A technology has been deployed by several world broadcasters to deliver coverage of the FIFA World Cup.
Four FOR-A FRC-8000 multi-format frame rate converters and one FOR-A MFR-8000 4K/8K routing switcher were used by European broadcasters to supply properly formatted, live coverage.
A premier Japanese broadcaster went with six FRC-9000 4K/HD frame rate converters for HD and SD signal conversion for error-free live broadcasts of the month-long contest from Russian to its viewership in Japan.
A broadcaster in Korea selected a total of 18 FRC-9000 frame rate converters for its coverage, with two of the converters being used within a 4K production system, and the remaining providing conversions within an HD system.
"This is the ultimate test for our frame rate conversion technology," said Mr Takaaki Imoto, Senior General Manager of FOR-A Overseas Sales & Marketing Division. "The world football event is one of the most prestigious sporting events covered by broadcasters all over the world. There are many conversions that must be done live to get the properly formatted signals to their destination. It's a complex task that FOR-A makes look easy for our customers. We congratulate these broadcasters for their spectacular world football event coverage."
The FRC-9000 4K/HD frame rate converter supports 3G, HD and SD. It provides SD to 3G/HD up conversion; interlace to progressive conversion; conversion with motion compensated processing; optional 4K (UHD, SQD/2SI) support; and simultaneous conversion of two-channel video inputs.
The FRC-8000 multiformat frame rate convertor includes motion compensation technology, and HD and SD format conversion. Up converter, down converter and cross converter functions are also provided for converting to various formats. It features HD-SDI and SD-SDI input and output and input and frame rate conversion for conversion to a wide range of SDI formats, such as: 1080/59.94i, 1080/50i, 720/59.94p, 720/50p, 525/60, and 625/50. Up, down and cross conversion is standard on the FRC-8000, as is up conversion from SD to HD, down conversion from HD to SD, and cross conversion from 1080i to 720p.
MFR-8000 4K/8K routing switcher features an expanded matrix of up to 256 inputs/256 outputs in a 16U frame. It has a 12G-SDI I/O and gearbox support. It supports 3G-SDI(Level A/B), HD-SDI, SD-SDI and ASI signal input/output with automatic signal type detection.
www.for-a.com
Top Related Stories
Click here for the latest broadcast news stories.