Broadcast News
14/05/2014
Calrec Selected For NEP Studio Upgrade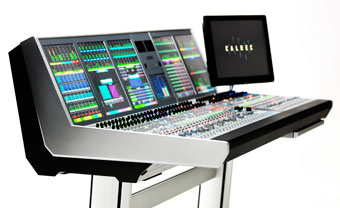 Roll to Record, international broadcaster NEP's UK-based provider of custom studios and control rooms, has installed a console from Calrec Audio in its permanent studio operation at the Wimbledon TV Studios complex in London.
NEP installed a 40-fader Artemis console along with three remote stageboxes, one remote AES box and a dual MADI box. A modular I/O box has been built into the racks in the master control room to provide further analog and digital inputs and outputs along with GPIO control.
The console is built into the infrastructure of the studio, but the control surface can be moved from one production control room to another because it requires only two fiber connections.
"Having the new Calrec console in place means we can easily attract more customers to our production service at Wimbledon Studios," said Paul Fournier, head of sound at NEP Roll to Record. "Having a Calrec console in a facility always sells. Calrec is a well-known brand with proven reliability, and there are plenty of freelancers who already know how to operate the consoles. That's why we are a Calrec company."
"We've enjoyed a long-standing relationship with NEP, and the company uses Calrec consoles almost exclusively. This installation reinforces that relationship and the level of confidence NEP has in our products," said Jim Green, Calrec's U.K. sales manager. "The new console leaves NEP well-positioned to take on more work at the Wimbledon Studios and be ready for any show that comes its way."
NEP's outside broadcast arm in the UK has also rented a 64-fader Artemis console to aid coverage of the forthcoming 2014 Wimbledon Championships tennis tournament. NEP Visions will use the console as part of a flypack to complement its own Calrec desks in service at the Championships.
It will be part of a fully featured control room attached to a dedicated studio that is responsible for full presentations and highlights, all broadcast in 5.1 audio as standard.
calrec.com
community.calrec.com
(IT/JP)
Top Related Stories
Click here for the latest broadcast news stories.