Broadcast News
13/11/2014
Calrec Marks 20th Summa Console Sold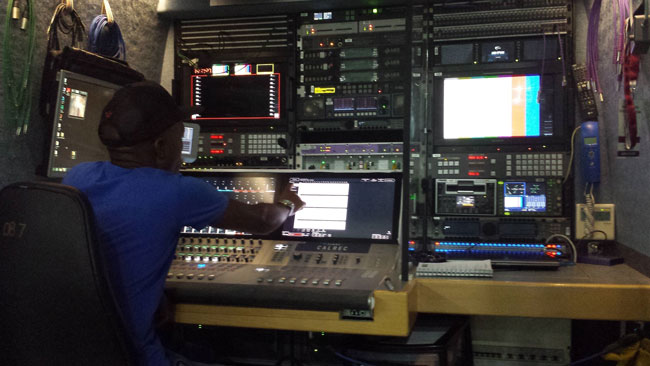 Calrec Audio has sold its 20th Summa audio console, the newest in its lineup of advanced digital audio consoles. Since July, Calrec has been delivering Summa desks into the U.S., China, Taiwan, Hong Kong, Turkey, Italy, South Africa, South Korea, and Kuwait.
The most recent two Summa sales were made to SuperSport Outside Broadcast in South Africa. SuperSport is installing the two Summa consoles to replace the other audio desks in its smaller OB-7 and OB-8 units, to be used for sports coverage throughout South Africa.
"OB vans are becoming more and more sophisticated, and space is always an issue, but perhaps even more so in small units. They must be able to deliver the same level of quality as their larger counterparts in a smaller footprint," said Johan van Tonder, technical operations manager at SuperSport Outside Broadcast. "We trust our entire fleet of large trucks to Calrec, and now that the Summa desk is available, we can take advantage of the Calrec benefits in our small OB vans as well."
"Our customers and other broadcasters were asking for a console that was every bit as robust as our Apollo and Artemis consoles, but with a smaller surface, fewer resources, and an intuitive GUI with a small learning curve. That was the motivation behind the Summa console," said Calrec's international sales manager, Anthony Harrison. "The fact that we've delivered 20 of them since July tells us that demand is high for a more compact alternative to our other popular consoles. Progressive broadcasters like SuperSport, our first Summa customer in South Africa, are helping Calrec to gain a foothold in the market for small OB units."
Launched in September 2013 with a 180-channel capacity, Summa is now also available in a 128-channel version. Both versions offer broadcast-focused facilities presented on a control surface with a GUI, making it suitable for a broad range of operator levels. Operators control the console via a 17-inch multitouch screen inspired by familiar tablet technology using established finger gestures.
The console uses Calrec's Bluefin2 technology at its core, along with the same Hydra2 router technology that is integral to Calrec's other Bluefin2 consoles.
calrec.com
(IT/JP)
Top Related Stories
Click here for the latest broadcast news stories.