Broadcast News
13/05/2014
DPA Selected By Joel Compass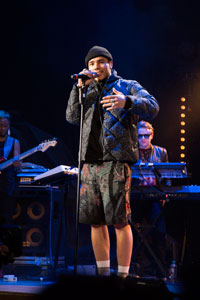 Emerging UK artist Joel Compass has become the latest to join the DPA Microphones' fan club. Compass, a 21-year-old from south London, was switched on to DPA's d:facto™ Vocal Microphone by his tour manager Mark Portlock and engineer Liam Halpin.
"DPA microphones are renowned for their audio quality and very low noise floor, so I initially considered the d:facto Vocal Microphone for another artist I am working with who has a particularly quiet voice," Portlock says. "However, once Liam and I demo-ed it we realised it would also work really well for Joel's voice, which has a great dynamic range. We introduced him to the microphone and he absolutely loved it. He is now using d:facto for all his live vocal performances."
"DPA's UK distributor Sound Network supplied us with an adapter that gives us seamless integration with all of the professional wireless systems we usually encounter," Halpin says. "I am a big fan of Shure's wireless system but that doesn't preclude me from using other brands of microphone. There is a correct microphone for every situation and in Joel's case, when it comes to live vocals, it's the DPA d:facto. With this microphone all I need is an adapter, a capsule and a grill and I can walk into any venue and use any wireless system – I don't have to take in my own. That saves us having to rent in a wireless system and allows us to use the right microphone for the artist and the performance space.
"DPA's d:facto Vocal Microphone seems to work best when artists use In Ear Monitors, because that's when they can really hear the difference it makes to their voice," Halpin says. "With Joel, we started out using wedges but this was a real pain because he would sing right off the mic, often with his hands covering parts of the grill. Eventually, when we switched to d:facto, we persuaded him to move to IEMs, which he now has in both ear. The change this made to his mic technique was dramatic. Suddenly he could hear his own voice properly and he got right on the microphone because he was enjoying the improved sound so much. It's made a huge difference to his performance and to the consistency of his sound – in fact I would go so far as to say that this microphone has done more than anything else to get his live performance to where it is now."
www.dpamicrophones.com
(IT)
Top Related Stories
Click here for the latest broadcast news stories.